"Yes, and" brings improv to Loyola
Improvisation is a powerful skill set in every facet of life. Being quick on one's toes can allow a person to excel in business interviews and even casual conversation. Most of all, it makes some comedy gold.
That's why this semester, a brand new club was introduced to the Loyola student body.  Headed by Megan Hill '20 and Kyle Hand '20, the club is a basic introduction into the world of improv. Some of the fundamentals that are taught include the "yes, and" principle and how to establish group-think.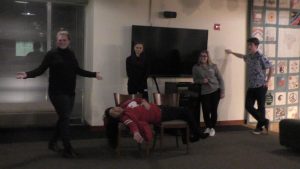 The "yes, and" principle tells performers to always agree to what fellow performers establish in the scene, to never negate anything that is within reason, and to heighten the scene by adding new information. Group-think is the collective state of mind established by all improvisers sharing the stage.
The Improv Club is an off-shoot of the Nevergreens, our resident sketch comedy group. Five of its members, including Hill and Hand, wanted to incorporate more improvisation into shows. Enough demand was present that allowed for a whole new club to form. The idea became more of a reality after the Nevergreens opened up for the Baltimore Improv Group (BIG) in November 2016.
"After seeing BIG perform for the first time, I realized how much I missed improv and saw how much value improv can bring to this campus," Hill said, who participated in an improv troupe back home in Syracuse. Hill has done improv for a number of years, and she's collaborated with the Upright Citizen's Brigade (UCB), which is a renowned improv theater in New York.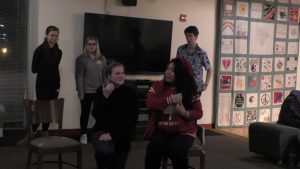 What is exciting about this club is its involvement with BIG. "BIG is going to help us out because we are planning an improv workshop with Terry Withers, a very experienced improviser, and they offered us a time slot to perform." Hand said.
Later in the semester, the Improv Club will have the opportunity to perform at the Single Carrot Theatre in Baltimore, where BIG resides. Ever since BIG's performance at Loyola, Hand has been working closely with the local group, interning with them and learning from their experience. The club also plans on participating in BIG's weekly jam sessions, which are essentially open mic nights for improvisers.
In addition to providing some comedy gold, the essence of improv also helps develop character and interpersonal skills. "I am actually a serious introvert, and improv has really made me more confident in interacting with others and given me overall great communication skills," Hill said.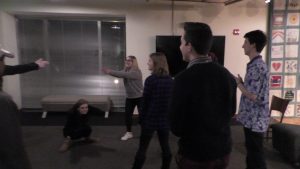 She also notes the importance of community that improv troupes create. "You really are trusting the people you share the stage with, and the club creates an atmosphere of friendship," Hill said.
"It sounds cheesy, but improv really is a lifestyle. I can't help but relate everything I do back to improv, like in everyday conversation," Hand said. "Improv is important to me because it's an art form which you can learn from everybody. If you're able to put your pride aside, and be humble before what you don't know, then you can learn a lot."
Stay tuned for updates concerning announcements and performances by following Loyola University Maryland Improv Club on Facebook and Instagram.
All Photos Courtesy of Matt Brown
View Comments (1)
Your donation will support the student journalists of Loyola University Maryland. Your contribution will allow us to purchase equipment and cover our annual website hosting costs.