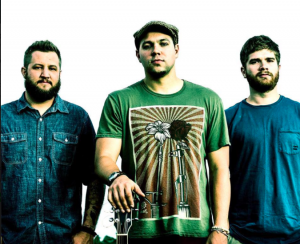 As a part of its weekly Coffeehouse performance series, WLOY hosted the band "Pressing Strings" this past Thursday, Feb. 2 near Starbucks in College Center. The group, which originated in Maryland's capital in 2007, has a bluesy and soulful feel that fit perfectly into the laid-back environment of the night.
Lead singer Jordan Sokel and bassist Nicholas Welker held down the set with the absence of their drummer Brandon Bartlett. Sokel used a foot-operated percussion to make up for Bartlett's absence, which provided a true "coffeehouse" atmosphere for the audience.
The duo harmonized beautifully, and the combination of the acoustic guitar with a steady bass brought a calm mood to the venue. Additionally, the occasional insertion of harmonica and tambourine applied an interesting blend of folk, rock, and reggae into the overarching American Roots theme of their music.
The trio has three albums released to date. The most recent, "Most of Us," was released in October 2016. Other than recording EPs, the band has also "done a bunch of two-week runs, but we did one major one last fall, which was a 40-day, 25-city tour. And we got a couple things shaping up for this year as well," Sokel said.
Along with the soothing music in the seating area of Starbucks, the popular social hub for food and drink remained open to provide refreshments and snacks for the listeners. As the night went on, passersby began to stop, notice, and appreciate the music in a place usually filled with constant hustle and bustle during the day.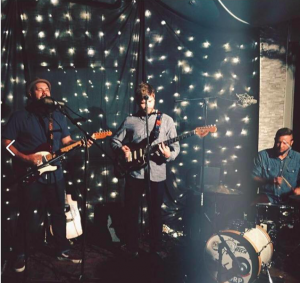 These WLOY sponsored events not only advertise small-scale local bands with immense talent but they also provide an effective way for students to detach from routine to relax from the stresses of college life and open their ears to unfamiliar music not heard on a mainstream level.
"This is my very first time coming to a Coffeehouse event, but after tonight, I'll definitely be back next week," Orla Coughlan '20 said.
As for the near future of Pressing Strings, they will travel to different spots in Maryland, playing in Easton on Feb. 4 and Berlin on Feb. 10. On Thursday, March 2,  the Strings will return to the Baltimore area at the Baltimore Soundstage at 8 p.m.
"If we can keep playing and keep making a living at it, and we keep touring around more, hopefully [we] keep producing and progressing as a band," Sokel said. "And [if we] feel like there's something worth in it, then we'll keep it going."
All Photos Courtesy of the Pressing Strings Facebook Page