On Jan. 21, 24 hours after the inauguration of President Donald Trump, the streets of Washington, D.C. were filled with as many as 440,000 marchers for the Women's March on Washington. More than 5 million people  around the globe were in attendance to march in solidarity with women as they fought for their rights that they believe are being infringed upon by the new presidential administration.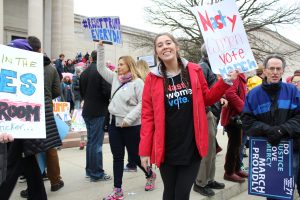 Among the zealous activists and supporters who marched were two school buses full of Loyola students, faculty members, and alumni as well as their family and friends. Transportation was organized from Baltimore to D.C. by the university's Center for Community Service and Justice (CCSJ). Spots on the bus were granted on a first come first serve basis, and they proved to be in high demand as many people were placed on a waitlist.
Right before exiting the highway to enter the city, both buses took the time to share some opening thoughts about the day ahead. One by one, each person spoke to share their reason for being at the march. Many responses revolved around the ideas of unity and standing up for those whose voices may not be heard or acknowledged.
"I wanted to go to the march because I wanted to simply be around people who felt the same way–that no matter gender, race, religion, sexual orientation we are all humans and we are all equal," Jenna Christiani '19 said.
Prior to the march, which was scheduled to start at 1:15 p.m., a lineup of speakers took to the stage outside Hirsshorn Museum and Sculpture Garden. Motivational speakers, political figures, celebrities, and activists took turns in imparting wisdom and inspiration to the crowds with sentiments of unity, peaceful resistance, and empowerment at the core of their speeches. Among those who spoke were America Ferrera, Gloria Steinem, and Scarlet Johansson.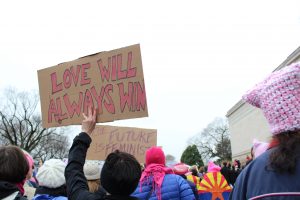 Thousands of "pussyhats," pink knit beanies with pointed cat ears made for the occasion by the Pussyhat Project, dotted the sea of marchers who tirelessly chanted in support of women's issues such as equal pay, sexual assault awareness, and the protection of a woman's right to comprehensive health care.  But as noted on the Women's March website, the focus of the march was not solely on women's rights.
"The Women's March on Washington will send a bold message to our new government on their first day in office, and to the world that women's rights are human rights," the march's mission statement said. "We stand together, recognizing that defending the most marginalized among us is defending all of us."
The strategic scheduling of the march to be held the day after President Trump's inauguration made it both unsurprising and inevitable that marchers would use the event as a platform to protest against the nation's new leader.
"Saturday's march was a much-needed chance to exercise my responsibility as a citizen to act when things are amiss.  I never thought I would protest a presidential inauguration, but this president is not typical.  I don't just disagree with his policies but with the way he threatens the democratic process by falsifying information, censoring science, and undermining free media," CCSJ's Assistant Director of Service Learning Kate Figiel-Miller said.
Other issues that were a part of the march include climate change, immigration, and anti-Muslim sentiments, all of which have been points of great concern for many Americans in the present political climate. The inclusivity and broadness of the cause was shown by the grand diversity of its participants: men and women of every race, young and old, all took to the streets to have their united voice heard.
Signs quoting famous feminists, positive messages of love and acceptance, puns poking fun at the new administration, blatant facts about the current inequalities that women still face, and bold statements regarding oppression filled the air as the marches began their two-mile route through the city.
The day before the march, Associate Professor of Fine Arts Janet Maher set up an area in the Student Center for students to create posters for the march. Many students made their own signs to use the next day, while others who were not marching made posters for their fellow students' use. The event was featured during the Teach-In that was held on Jan. 20.
"Art has always accompanied social and resistance movements. As humans, we instinctively create and desire images with which we can identify and can hold close to our hearts," Prof. Maher said. "The art of rebellion and claiming of identity has a long and beautiful heritage that extends in America from the Natives who lived here before Europeans arrived to conquer and marginalize them."
Despite the sheer volume and palpable intensity of the crowds in D.C., the movement was not contained within its city limits. Sister marches were held in the cities of Los Angeles, Austin, New York, Boston, and Baltimore, and even abroad in places like Paris, Prague, Myanmar, and Antarctica. According to NBC San Diego, over 600 marches were planned globally in support of this event.
In Baltimore, The Baltimore Sun reported there to be 5,000 people gathered in the Johns Hopkins University area of Charles Village, causing the shutdown of portions of Charles Street. Organized by retired pastor Donna Martin, the event was initially intended to be a vigil of around 200 people, but blossomed into something much more.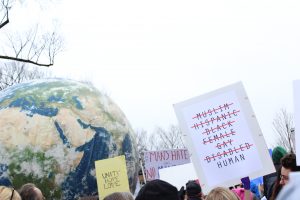 In a video posted by The Baltimore Sun, State's Attorney General Marilyn Mosby spoke about the importance of "warrior women," declaring that "every great movement towards progress in this country began with warrior women."
In the wake of its success, the Women's March organization has launched the "10 Actions 100 Days" campaign to ensure that the fight for equality is not only a one-day event. Click here to learn more and to become part of the movement.