The Spotlight Players Present 'W;t'
From Jan. 20-22, Loyola's student-run theater group The Spotlight Players put on a production of a play entitled "W;t." The show was performed in the Black Box Theater in College Center and was directed by Annie Malady '17.
Since November, the cast and crew have worked incredibly hard to put on the best show possible, even returning to campus a week early from their winter breaks to ensure perfection. The hard work definitely paid off, as the show was extremely successful in all three performances. In fact, its final showing was performed to a sold out crowd.
Despite the overall praise and positive reaction to the show, the material of the story itself portrayed a dark subject matter. The plot focused on Vivian Bearing (Caitlin Dwinnell '20), who is suffering from stage four ovarian cancer. The audience sees her as she struggles through the highest dosage of chemotherapy, having to bear this feat without any family or friends by her side.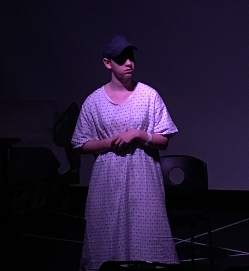 The doctors that take care of Bearing, Dr. Harvey Kelekian (Ryan Mattox '17) and Dr. Jason Posner (Joe Mucciolo '17), are cold-hearted and put more focus on their ground-breaking cancer research rather than Bearing's agony or emotions. Contrary to the doctors, nurse Susie Monahan (Emma Ditzel '18) sympathizes with Bearing and respects the human, emotional experiences and struggles of a cancer patient.
The only visitor Bearing has throughout her battle with cancer is her old professor, E.M. Ashford (Lauren Mazzio '18). She serves as a motherly figure to Bearing, reading her an old children's book during her worst times in the hospital. Other actors in the show included Serina Addona '20, Alex Casey '19, and Clara Love '18, who played technicians, fellows, students, and the code team.
Throughout the show, Dwinnell delivers several monologues as Bearing, allowing the audience to enter the mind of someone battling stage four cancer. Her character had also been a literature professor who pays homage to poet John Donne. She reminisces on memories with her undergraduate students, and reflects on sonnets that relate so closely with the paradox of life and death.
The play's themes revolve around Donne's "Holy Sonnet Six," which relates to the thread of taking the most confusing, complex situations and trying to make them simple. Throughout the show, we see Bearing try to make sense of her life and death situation.
Dwinnell was extremely dedicated to her character and even shaved her hair to play this role. "[The role] is just something you have to dive deep into to fully appreciate every little aspect of the character," Dwinnell said. "I think it was really an honor to be chosen to play this part, because I know how closely it relates with so many people."
The real intensity and impact of the play stems from the fact that everyone in the audience knows someone who has cancer, who has died from cancer, or who has survived it. For Dwinnell, this show resonated with her because her grandmother died from cancer in the midst of the show's rehearsals. Malady's mother was also diagnosed with cancer.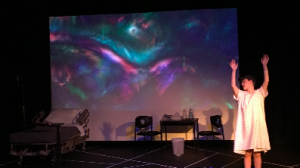 Malady was thrilled to watch their hard work finally be seen by an audience. "It's a very surreal feeling to watch it and take it all in" Malady said. "A lot of the work involved a lot of emotional labor on everyone. I think the hardest part was getting everyone into a safe and comfortable place to deal with death and things like that. For me, it all stays with me during the day and I have to take time to process as the day goes on."
The intensity of the show was felt by Dwinnell as well. "It required a lot of focus because my character was in so much of the show. We would have 7 p.m. to 11 p.m. rehearsals, and it was really work intensive, and also a really intense character," Dwinnell said. "It was really terrible and deep, and after every run and rehearsal, a deep breath was definitely necessary."
Overall, the show was amazing. The cast and crew worked incredibly hard to make this performance in the Black Box theater shine. The audience loved the show, although many admitted that it was a toll on their emotions.
"I'm very flustered and emotional, but I'm also very star-struck by the talent in this show," Natalie Lana '20 said.
If you enjoyed "W;t," or any other of Loyola's performances, be sure to check out "Eurydice," which will be showing from Feb. 23-26, and the various Student Directed One Act Plays showing from April 6-9.
All Photos Courtesy of Caitlin Dwinnell '17
View Comments (1)