Loyola's Chapel Choir will perform its 28th Annual Festival of Lessons and Carols on Dec. 9 at 5pm in the Alumni Memorial Chapel. Lessons and Carols is a combination of Christmas songs and hymns sung by the choir and scripture readings read by Loyola students.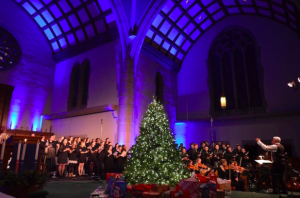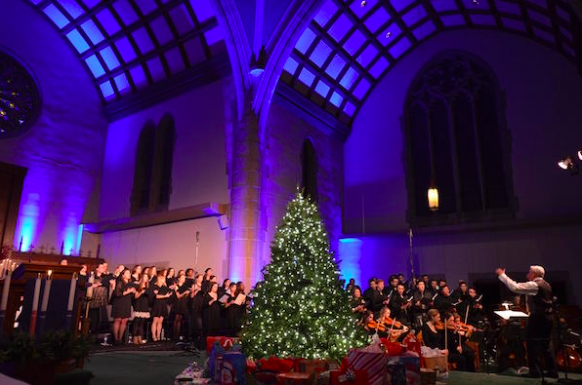 For this wonderful Christmas event, the chapel will be lit with candles and decorated for the Christmas season. The chapel choir, which sings weekly at the 5pm Sunday mass, consists of over 70 Loyola students and several alumni who come back for this event. This year, the choir will be led by Loyola music director George Miller, Amy Klosterman, Steven Bartoszewicz, as well as by the Campus Ministry student interns. There will be 14 songs performed, including beautiful renditions of "Ave Maria," "Once in Royal David's City," "O Come, O Come Emmanuel," and "The First Nowell."
Senior Emily Bruce, a music intern, reflects on why she joined chapel choir and what this event means to her. "I got involved in chapel choir mainly because it was something I did in high school. I stayed involved because of the passion and authentic faith of the choir members, and our director, George Miller," she said. "They made the choir a true community where I felt free to express my feelings about God. Lessons and Carols is the culmination of our work and ministry as a choir. This year in particular, with our choir director out on medical leave, I am so proud of all the work the members have put forth in his absence."
At the event, the gifts from a CCSJ program, Presence for Christmas, will be brought up to the altar and presented under a big, fir Christmas tree. Gifts for over 700 children throughout the Baltimore community will be collected for Loyola's community partners.
Senior music intern Chris DiTaranto said, "Lessons and Carols is everything to me.  It has and always continues to be my favorite night of the school year by far.  It is incredible how happy the night makes everyone and how excited students get for it.  I can't think of another event that is more Loyola than Lessons and Carols.  It is just perfect. I chose to get involved with chapel choir because I wanted to be involved in Campus Ministry, I love to sing, and I love being involved at mass. The choir director, George, gave me a CD of a previous Lessons and Carols that I listened to right after my summer orientation and I was immediately hooked and knew that I needed to be a part of this."
Admission to Lessons and Carols is free and open to the public. There will be a live stream of the concert as well as a recording of all of the music. CDs can be bought through the Campus Ministry office in Cohn Hall 100 after the event or online. Lessons and Carols is a wonderful way to get into the Christmas spirit while enjoying beautiful music with friends and family!
All Photos Courtesy of Loyola Maryland Campus Ministry Page