According to the National Center for Women and Information Technology (NCWIT), about 57% of modern day women occupy the US workforce. While this is a massive surge compared to the 1950s, when women made up less than 30% of the force, women working in computing and technological fields have a long way to go.
As reported by the NCWIT in 2015, only 25% of the technology and computing related workforce was made up of women. That number is even smaller for women of color: about 4% of computing careers are held by Asian-American women, 3% by African-American women, and 1% by women of Hispanic origin. This number of women overall in computing careers has decreased since 1991, when 37% of women held technological occupations. The extreme evolution and high demand of advanced computers in the past two decades is the reason for such a fluctuation.
On Nov. 30 two women who have worked in tech positions their entire lives were invited by Loyola's Student Activities to come and speak about their experiences in the field.
The first woman to speak was Patricia Malek, who currently works in cyber security here at Loyola Maryland. She began by saying, "I am one of the few people you will meet that doesn't have a college degree. I graduated high school in 1982, and at that time I could just go out and do what I wanted to do. I came from a low class family, and they told me college was off the table. I worked as a legal secretary until the evolution of computers came. Then I worked with Microsoft word and so on as each new development came."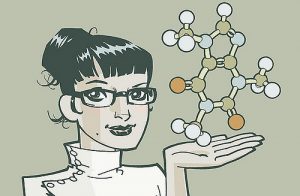 Malek used to work for Legg Mason, a Baltimore-founded asset management firm, but when it reduced its staff by 75%, Malek unfortunately did not make the cut. She then found a job at Loyola, telling us, "because it's a great organization and, honestly, I have a freshman sitting in Campion Towers right now." She began her work at Loyola as a senior engineer, and noticed how cyber security was novice with a lot of fragmentation. The department needed transformations, and Malek brought her vision to revamp and rebuild Loyola's cyber security system. Sure enough, she got the job.
The next speaker, Shelley Bliss, is a professor at Loyola, currently teaching introductory computer classes. A Towson graduate, her only goal was to graduate in four years, and so she stuck with a major that landed her careers she later realized she didn't want. She previously worked as a gynecological surgical coder and hated her job.
She decided to take an opportunity with an IT position that had been offered her, to which her boss replied, "Bad decision. There will be no career growth for you in IT." Bliss, recounting this unfortunate event, continued, "I'm emotional so I had tears streaming down my face – and I went to the bathroom to calm down, and built up my confidence. I went to his office and told him it didn't matter what he said, I have the right to change and I was going to. I will never forget that conversation."
Bliss then began her career at an IT help desk, and slowly but surely learned how to fix people's computer problems by watching the professionals work. This was a great addition to her resume – employers could now tell that Bliss is a sponge for new information. Because of that trait, she was hired at Legg Mason and for six rough months Bliss floundered with software.

"When I found web development, my life changed," Bliss said. "For anyone unfamiliar with developing," she said, "it's like running up against a hurdle, hitting your head over and over again and again until jumping over it, and immediately running into another hurdle." After several months of chosen unemployment, Bliss began work again with smaller IT jobs here and there, until she started working at Loyola.
When Malek and Bliss were asked by an audience member what is was like to be a woman in a male-dominated field, the two gave wise insight and advice. Malek said, "when you're really only ever working with men, you're going to be 'that woman.'"
Malek emphasized that "you have to make sure you don't make mistakes, that you are very competent." She continued, "As a woman, you need to be able to present yourself in a room full of men and know your stuff. You have to be able to set yourself apart, and bring something unique to the table that no one else can. In being in a male dominated field, you just can't be intimidated."
Bliss reinforced what Malek told us, but also added, "I want to stress the confidence. Fake it till you make it. If you don't show that you're nervous, that confidence will come. You don't want to be arrogant, but you need to be confident. It's okay to say you don't know something, but be observant and absorb as much as you can."
Malek and Bliss, both women with charming personalities, told us sobering events of their lives, and helped a room full of computer science students realize what kind of world they are about to step into.
Feature Image: WOCinTech Chat Photo, Courtesy of Flickr