From Nov. 17 to Nov. 20, the Evergreen Players presented William Shakespeare's Macbeth in McManus Theatre. Directed by Dr. James Bunzil, a professor in the Theaer Department at Loyola, the cast put on a great show. All actors knew their lines well and portrayed Shakespeare's work perfectly. Their hard work was seen not only through their acting skills, but also in tiny details seen in the set. The set was interesting and dynamic, and the use of a fog machine as well as varying lighting helped to set the mood. Their hard work was also shown in how well they made the atmosphere of the stage work with the story. Overall, it was an excellent performance.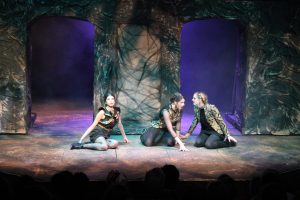 Some highlights of the show that both cast members and audience members describe as their favorite were the fight scenes and the witch scenes. This Shakespeare play is where the classic line "Double, double, toil and trouble. Fire burn and caldron bubble" comes from. The use of fog during these memorable scenes only brought the scene to life that much more.
"Macbeth" was junior Connor Gloth's first production. He had never done anything involving theatre before this show, and he now wishes he had joined sooner. "It is so much fun. Performing in front of an audience is fun, being backstage is fun, and getting to know the cast and working with an awesome group of people is fun," Gloth said.
In this production, Gloth played Macduff, who is the avenging hero who saves the day and kills Macbeth in the end. He said his favorite part was at the end, which is a major part of the play. "I get to walk out triumphant and stand on top of the spiral stairs with a fake head of Macbeth. It seems cheesy, but I love it."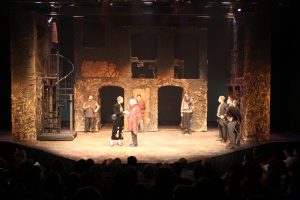 The ending was also a big hit for the audience. During the scene, you could hear small laughs from the audience as Macduff (Gloth) came out with the fake head on his sword. After the show, many people were commenting on the end saying that it was great and their favorite part.
This was first-year cast member Kate Mazza's first production at Loyola as well, and she said it was a great experience. Mazza played one of the witches/ weird sisters in the production and said it was fun getting to act like you never would noramlly. "I have also loved getting to know new people and getting to perform Shakespeare," Mazza said. "Once you perform it, you understand it better, and it isn't as boring. It actually even relates to today."
And it does. Loyola's production of this Shakespeare classic was not set in any specific time. The house music used was not time specific, and the costumes used were very modern and intricate, which some cast members, with a smile, described as "trendy" and "baller."
It is also easy for one to apply the themes of this play into everyday life, such as don't try to control your fate or don't reach for power as it can consume you. In the play, Macbeth thinks he can become king by killing the king. He then goes on a rampage killing people in order to control the future in a way he finds pleasing. In the end, the guilt consumes his wife, causing her to commit suicide, and leads to his eventual death.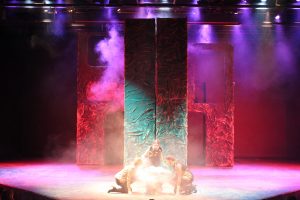 As college students, we can easily apply this to our everyday lives. Basically, just take it day by day. Do not try to control what the future holds. None of us know, so do not try to mess with it. Also, do not try to become the best of the best. In college, power can be defined as academic success or athletic ability or more. Don't let these things get to the best of you. In other words, don't get cocky because it will consume you.
Some cast members have one piece of advice for you to take away from this play. "Don't take advice from weird people in the woods" and "Don't be a tyrannical dictator." A big congratulations to the cast and crew for yet another successful production!
All Photos Courtesy of The Greyhound