The Reading Room was transformed into a coffeehouse on Nov. 11 for a night of poetry and flash fiction. Hosted by the Fiction and Poetry section of Loyola's literary magazine Corridors, the coffeehouse was a contest was an effort to encourage submissions to the publication as well as an opportunity for students to enjoy great literature composed by their peers.
As 5 p.m. rolled around, people began filing into the dimly lit space, with chairs and couches surrounding the small stage in the back corner of the room. With coffee and donuts in hand, guests settled into their seats, eager to hear what the contestants had prepared for the evening. Almost 40 people attended to show their support, some of whom were professors from the Writing Department.
The event's line-up consisted of 10 readers who shared their best pieces of poetry and flash fiction in the hopes of winning and seeing their names in print come spring. One by one, they read their pieces aloud, allowing the audience to see parts of themselves that may otherwise be hidden during daily interactions. They beautifully and creatively spoke of marriage and loneliness, lost love, destructive love, and the elements that complicate and strain family relationships, such as illness and abandonment.
Junior McKayla Coyle read her poem entitled "Ophelia by the Brook," which is part of a longer series of feminist poems that looks at female figures and how the female experience has changed over time.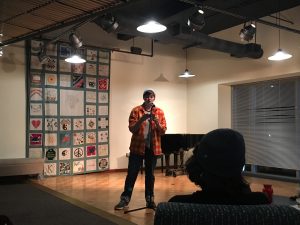 "It's sort of supposed to do a few things: inspire people to start changing things because it's ridiculous that we're still living like this, and also to give readers like a sort of familiar story in the lives of women like Ophelia who seem sort of untouchable and did great things," she said.
Poetry and Fiction editor-in-chief Valerie Cassola expressed great satisfaction with the event's success. "It was great to hear the words I saw on paper come to life vocally. Each reader gave his or her piece a unique voice and their personal connections to their own words were vividly clear," she said.
Coyle agrees that poetry readings are the perfect times to see a poem come to life. "One thing I really like about writing and participating in readings is that I get to actually use my voice to do good things and speak up for what I believe in and make people listen, and I think that's what this poem is for me basically," she said.
At the end of the night, members of the audience were given a ballots which listed all 10 pieces, from which they picked two to vote for. The top three pieces from both genres will be published in the literary magazine this April.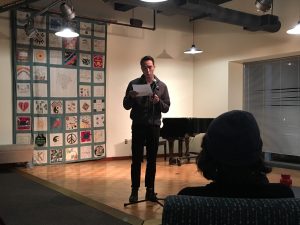 Corridors will have two deadlines for the final publication that will be released in April of 2017. The fall deadline is Nov. 18, while submissions for the spring will be received until mid-February. All students are welcome to submit pieces of fiction, poetry, non-fiction, and even artwork in the form of photography and original pieces. There is no limit to how many pieces one is able to submit, and the magazine is also open to receiving works across multiple genres from the same author.
If you are interested in submitting a piece, do not hesitate to email [email protected] with your work. For more information about requirements and submission processes, visit their website.
Feature Image: Courtesy of Corridors website