One summer night when I was 12 years old, my mom sent my friend and I off to the movie theatre with party hats and a bag filled with newspaper, water guns, playing cards, and toast. I thought she was crazy. Who brings toast to the movies?
But this wasn't an ordinary night at the movies. This was my first experience at "The Rocky Horror Picture Show."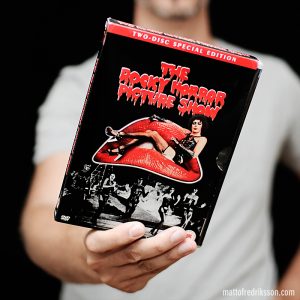 For those of you who don't know, "Rocky Horror" is a bizarre parody sci-fi movie starring Tim Curry as a transvestite from a planet called Transylvania. Though it started out as a flop, when the Waverly Theater in New York City decided to make it their midnight showing in the 70s, the film soon developed a following. It transformed from a cinematic failure into a film experience.
Baltimore's Creative Alliance holds annual performances of "Rocky Horror" every October. Creative Alliance brings in a cast of characters who are comfortable and accepting of themselves and others, and encourage the crowd to feel the same— a necessity when it comes to immersing yourself in the madness of "Rocky Horror."
As soon as the show begins, they go over the rules: no food, no slut shaming, and no discriminatory language. Not only do they put on a wonderful show, but they go one step further by creating an atmosphere where people can feel free to be themselves, however wild that may be.
While the movie plays on screen, the colorfully dressed cast members add comedic comments, lip-sync on stage, weave up and down the aisle through guests, and even strip for the crowd. But they're not the only ones who get to be part of the show.
When attending a "Rocky Horror" performance, you will want to wear the craziest outfit possible. Creative Alliance has a costume contest before the show, pulling the best-dressed people from the audience and letting the crowd vote on who pulled off the best look. Girls dress as boys, boys dress as girls, and everything in between goes on as well.
You also want to be sure to point out all your friends who are seeing the show for the first time, they're called "the virgins," so they can be called up on stage for the official Rocky Horror Virgin Initiation (details are top secret – you'll have to go experience it for yourself).
Creative Alliance also sold pre-made goody bags with all the supplies guests need for their "Rocky Horror" experience. No, you should not enter the theatre empty handed. Certain scenes of the movie are your cue to toss confetti, shoot the crowd around you with water guns, or raise your glass for a toast. If you're a Rocky Virgin with no clue what to do, have no fear: Creative Alliance provides first-timer guides explaining when to eat your gummy hotdog or shout along with the movie.
"The Rocky Horror Picture Show" is strange, provocative, and interactive every time you see it. Even as a newbie, you'll find yourself jumping out of your seat to do the Time Warp and booing Brad. You can never go wrong at the late night double feature picture show.