From Monday, Oct. 17 to Friday, Oct. 21, Loyola's Relay for Life club will be hosting a week-long kickoff event to celebrate the beginning of fundraising and to educte campus about Relay. Throughout the week there will be tables, decorations, food, and activities to raise money and get the Loyola community excited for Relay for Life's main event that will be held on March 25, 2017.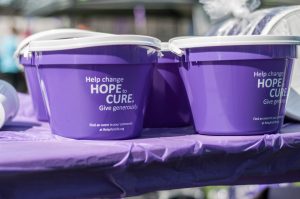 Relay for Life is a fundraiser through the American Cancer Society that raises money and promotes awareness for people who have been diagnosed with, have been affected by, and have lost their lives due to cancer. Relay for Life is a wonderful community of over 2.5 million people who strive to one day make the world cancer-free. Various high schools, colleges, and communities around the world host their own Relays every year to continue to raise money and awareness for the cause.
"I relay especially for my mom who passed away from cancer a few years ago," First Year College Hudak said. "Being on the Luminaria Executive board and planning the Luminaria ceremony is such a beautiful way to honor and remember her, as well as the multitude of cancer patients and survivors."
At Loyola University Maryland, Relay takes place during a 12-hour period (3 p.m. to 3 a.m.) in both Reitz Arena and McGuire Hall. Just a few of the exciting events that occur at this event include tables with games, activities, and baked goods, free food from restaurants and sponsors of the event, performances from many different clubs on campus, music, movie showings, dancing, and much more.
Walking around the Relay track with students from all grade levels and survivors from around the country brings the Loyola community together to reflect and acknowledge how many people have been impacted by cancer and what we can do as a community to help.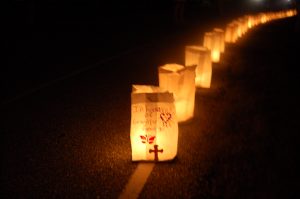 The Luminaria ceremony that Hudak will help plan is a major part of Relay. The lights go dim in Reitz, and glow sticks are lit in memory of those who have lost their battle with cancer. It is a moving ceremony, and reminds those who Relay why participating is so important.
"I think Relay is important because it brings our campus together. Unfortunately, everybody knows someone who has been affected by cancer, but that's why we have events like Relay for Life," event co-chair and junior Elise Reumann said. "I'm excited for our kickoff this year because it reminds people that Relay for Life is a full year fundraiser, not just an event in the spring."
During Kickoff Week, there will be different events every day. Here is an outline of just some of the events that will be taking place on the Quad (outside the steps of Maryland Hall).
Monday: Tables with information about Relay and interactive message white-board
Tuesday: Giveaways and social media challenges
Wednesday: Luminaria bag sale, Mini-Luminaria Ceremony at 6:30 p.m. with special guest speaker, and performances by Loyola's acapella groups
Thursday: Raffles of food and baskets, bake sale (There will also 50 free Chick-fil-A sandwiches given away for those who sign up at a table!)
Friday: Tables with music, giveaways, photo frame
To close off the week, the theme of this year's event will also be revealed!
"Relay is an incredible organization, especially at Loyola. I'm incredibly grateful that I get to work with such dedicated people to support those who've been hurt by something as vicious as cancer," event co-chair and junior Katie Ferrone said. "Kickoff this year is a little different because we have something cool and new every day all week. I'm really excited for the mini Luminaria ceremony on Wednesday night because that's always my favorite part of Relay, and it helps to remind me what I'm here for, and that what we're doing matters."
If you are interested in learning more about Relay for Life and what the organization does, make sure to stop by a table next week! If you are interested in starting a team for the event in the spring, it is never too early to begin raising money. The new link for this year's event can be found here.