On Friday, Sept. 30, the American Shakespeare Center concluded their trio of consecutive performances at Loyola with a triumphant showing of the classic Shakespearean tragedy "Romeo and Juliet." Earlier in the week, the group performed "Our Town" by Thornton Wilder as a contemporary output and "Two Gentlemen of Verona" to show Shakespeare's comedic end of the spectrum.
The cast's process in preparing for its elaborate shows is extensive. "We had to come in first day of rehearsals off book," Alecia Piper, who triples as Nurse, Lady Montague, and Balthasar in "Romeo and Juliet," said. "It takes about a month to learn the lines for each show."
There is little to no room for improvising on set, as strict adherence to Shakespeare's lines helps to truly create the atmosphere in which the plays were originally performed. Piper joked that the only character allowed to improvise was "The Two Gentlemen of Verona's" Crab, who is played by a dog.
The ASC performs with the staging conditions present in Shakespeare's day. This includes the doubling of characters, rich costumes that give context to the characters, and multipurpose sets that rely on the imagination of the audience to properly function. Yet, the distinguishing feature of this touring group is "universal lighting," or a completely lit theater and a lack of spotlight use, which allows the actors to see the audience just as much as they can be seen.
The audience, therefore, plays a large factor into the performance.  "I consider the audience to be my primary scene partner," J.C. Long, who plays Lord Capulet, Juliet's father, said.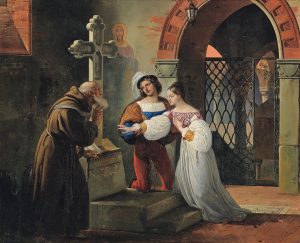 Interactions with the audience are encouraged for the actors, an aspect that Kyle Powell, who plays Sampson, says differentiates the ASC's edition of the play from others that he has acted in. "[Seeing the audience] makes the show more honest… it lets the actors communicate the story naturally, rather than [simply] acting it out," Powell said.
This year, the ASC celebrated its 15th anniversary of performances, which breaks down to 214 productions of 99 plays, more than 4,500 performances, and over 750,000 tickets sold, according to co-founder and artistic director Jim Warren. Guest director for "Romeo and Juliet" Benjamin Curns says that the aim of this show, especially in light of the recent Orlando shooting, is to promote a sense of love and compassion to audiences across the nation.
"I am particularly happy that this production will be seen in many different parts of the country, and I hope it can do even a little bit to show that, '[t]here's much to do with hate but more with love,'" he affirmed.
Next for the ASC is the continuation of the current tour, which runs until April, and a return to their residency at the Blackfriars Playhouse in Virginia.