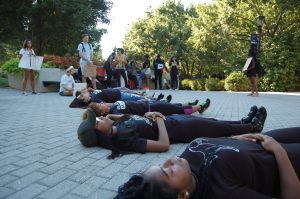 From Thursday, Sept. 22 to Friday, Sept. 23, student organizers occupied the Quad in order to raise awareness of race-based violence. The Loyola community gathered for a two-day demonstration that included various speeches, poetry, music, a candlelit vigil, and a die-in demonstration, which was its main focus. During a die-in demonstration, people lie on the ground and act as though they are dead to symbolize the lives lost in violence, ultimately to raise awareness of the issue.
Student organizers passed out flyers entitled #OccupyTheQuad that urged the Loyola and the greater Baltimore community to join students of color and allies to "raise awareness of race-based violence and work on ways to stop it." The student organizers explained that this two-day demonstration was different from a protest, which have been previously orchestrated on campus. The #OccupyTheQuad movement was meant to bring more awareness about race-based violence, and also to continue its conversation on campus. Students organizers urged fellow students to "approach these next two days with open minds and hearts in order to continue conversation about how we can make this world more just and equitable for us all."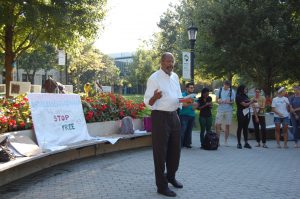 This movement was sparked by the recent killings of Tyre King, Terence Crutcher, and Keith Lamont Scott, who lost their lives in the six-day span between Sept. 14 and Sept. 20. Many lives have been lost as a result of race-based violence, specifically in police-related altercations. This movement strove to honor each fallen victim, with their faces and stories lining the entire length of the Quad .
The distributed flyer also had compelling statistics to draw attention to issue. For example,"790 people have been killed via some kind of police related incident. Out of this group 194 were black, making about 25 percent of the total, even though Black Americans only make up 13 percent of the U.S. population." These alarming numbers are exactly why student organizers felt the need to organize the demonstration.
Participants of the demonstrations, who will remain anonymous, all felt upset and angry about the rise of race-related violence and death in America. They were eager to bring awareness to students, administrators, and faculty, hoping to spread a greater understanding of the issue.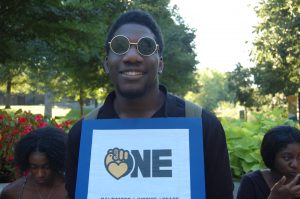 "Over the past couple of days I've felt a lot of anger, and just frustration about police brutality and how my people are being treated essentially like animals," one participant said. "I hope that over time we'll start to see a change, and that corrupt cops will be punished for their actions. And let them know that what they're doing isn't okay and that they can't just get away with it."
One participant is from Charlotte, the city where Keith Lamont Scott was killed. "This really touches base to home," they said. "These events are really frustrating because they keep reoccurring and not that many people are acting upon it. But luckily our school is being proactive and for the past few days we've been rallying up and talking about different matters, and that really means a lot."
Although the Loyola community occupied the Quad for only two days, the words spoken and the greater awareness of race-based violence have sparked conversations all over our campus. The second day of the demonstration ended with students, administrators, and faculty creating a symbolic time capsule which held a list of ways in which the Loyola community can be more proactive about racial injustices on campus. The time capsule will be read aloud in the Spring 2017 semester during the week of the second anniversary of the Baltimore uprisings in order to see if the Loyola community has upheld its pledge to become active participants in standing up to racial injustices on campus.
All Photos Courtesy of Brittani Borden '19