On Friday, Sept. 16, ALANA (African, Latino, Asian and Native American) Services hosted their first ever Party on the Block. The event was part of Initium Week, a series of fun events to kick off the new year for Loyola students.
This event, held on the Quad, celebrated Loyola's multiculturalism through ALANA Services' student-run organizations, with a mission to promote wellness and diversity throughout the Loyola community. The Party on the Block featured exciting games, a DJ, and food. Tables lining the walkway featured traditional food from cultures represented by the five ALANA student organizations:  ACA (Asian Cultural Alliance), ALAS (Association of Latin American & Spanish Students), ASA (African Student Association), BSA (Black Student Association), and CSU (Caribbean Students Union).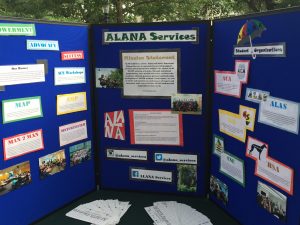 Of the many cultural celebrations ALANA Services hosts, the Party on the Block proved to be special as it is one of the few events where all of the cultural clubs participate together. ASA Secretary Oluwaferanmi Ayandele expressed his sentiments on the event, saying, "It was awesome that all of the ALANA clubs were able to showcase their different ethnic backgrounds and reach out to the Loyola community at large. I commend ALANA Services for creating and executing such a great event."
The Party on the Block gave Greyhounds a sneak peak of the food that will be served and events that will take place at future ALANA Services events. Throughout the school year, each ALANA Services' student-run organization will hold its own cultural celebrations that will feature an abundance of food, fun, and entertainment for the Loyola students, faculty, and administrators. These cultural events are meant to educate and include the whole Loyola campus and celebrate diversity.
This was the first year that ALANA Services hosted their Party on the Block, but hopefully it won't be the last. Events and programs that highlight Loyola's multiculturalism are essential to promoting inclusivity on campus. When asked to speak about the importance of the event, ALANA Services Graduate Assistant of Research and Retention Mickeal Pugh, Jr. shares that, "The Multicultural Block Party was an excellent opportunity for all Loyola students to be introduced to a variety of cultures. Events like these are important because it allows for a space of inclusivity. It is pertinent to embrace cultures, especially those that are often overlooked."
For those who are not aware, Loyola is labeled as a predominantly white institution (PWI).  A University Profile from the school's website explains that in the 2014-15 academic school year, 17% of faculty, 20% of undergraduate students, and 24% of graduate students were people of color. The numbers have gradually increased since then, as the the Class of 2019 had 26% of undergraduate students of color. Although the campus' diversity is on the rise, students of color often feel lost and underrepresented in PWI spaces.
ALANA aims to provide support, services, and events for students of color and the greater Loyola community in order for us to learn and grow together. It is essential that students and faculty are exposed to the many cultures that make up their population, as it further promotes Loyola's philosophy of cura personalis, or the care of the whole person, as well as respect for everyone's ethnic origins. BSA Treasurer Sterling Franklin expressed his optimism as the event came to a close. "I think the event was successful," Franklin says, "it was great to see so many types of people come together and share piece[s] of their culture [and] hav[ing] people not a part of that culture come and celebrate with them."
ALANA Services' Party on the Block was an overall fun time for all who attended. Once again, ALANA Services put on an educational and entertaining event for Loyola's campus, and I can't wait for the next one!
All photos courtesy of Mary-Elizabeth Esquibel