On Sunday, August 28, the 33rd MTV Video Music Awards took over New York City's iconic Madison Square Garden for a night full of live performances, surprise guests, and well-deserved wins. Year after year, the live show is recognized for its stunning visuals and overall production, and this year's program definitely defied expectations. Throughout the night, music fans saw performances by Ariana Grande ft. Nicki Minaj, Future, Nick Jonas, Britney Spears ft. G-Eazy, Beyonce, The Chainsmokers ft. Halsey, and Rihanna. Here are some of the most jaw-dropping moments from the night:
Live from the White Carpet: Before the start of the show, MTV aired clips from the Garden's white carpet (yes, white) which took over 34th St. and 8th Ave. Perhaps the most memorable moment was when Beyoncé stepped out hand-in-hand with her daughter, Blue Ivy, both sparkling in their custom-made silver dresses. Accompanying Queen Bey and Blue were four mothers of the Black Lives Matter movement — the mothers whose children have been violently killed due to their race over the past seven years. They stood tall next to Beyoncé, an advocate for equality herself, in honor of their sons Trayvon Martin, Eric Garner, Michael Brown, and Oscar Grant III. Others who appeared on the carpet include Simone Biles, Aly Raisman, Madison Kocian, Laurie Hernandez, Kim Kardashian, Kanye West, Ansel Elgort, Hailey Baldwin, and Baltimore's own Michael Phelps.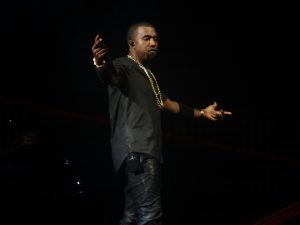 West's Words of Wisdom: It is not an awards show until Kanye West lets it be known that he is in the building. The "Famous" rapper took to the VMAs stage to premiere his music video for "Fade," but before the showing, he gave a six-minute ramble on his life, his controversies, and his inspirations.
"My role models are artists…merchants. There are less than 10 I can name in history: Truman, Ford, Hughes, Disney, Jobs, West," he said. Aside from being a musician, West is a business man. The recent startup of his personal clothing line has made millions, proving that he is a man of many talents.
All Hail Queen Bey: You can't get away with a 16-minute long performance unless, of course, you are Beyoncé. The singer-songwriter stole the show once again with her performance of nearly every track on her most recent album, "Lemonade." Between the choreography, visuals, and costumes, Beyoncé proved just why she can end the night with eight awards under her belt, one of which being the Moonman for Video of the Year. You have to admit that she definitely knows how to put on a show.
Nick Jonas Sizzles at the Tick Tock Diner: The former Jonas Brother band member gave his fans many star-studded surprises during the performance of his new single "Bacon," which features rapper Ty Dolla $ign. During the beginning of the song, Jonas spends his time heating up some bacon in the kitchen of Manhattan's famous Tick Tock Diner. Eventually, Jonas gets things cooking when he makes his way to the main dining room to meet famous friends DNCE (and brother, Joe), Joanne the Scammer, Taylor Hill, Ashley Graham, Odell Beckham Jr., A$AP Ferg, Fabulous, and The Fat Jewish, before the restaurant erupts into a roar of dancing, lights, and bacon. Jonas meets Dolla $ign on 34th St. for the remainder of the song, which they performed in front of the Empire State Building and hundreds of screaming fans.
Britney's Back: For the first time in 10 years, pop legend Britney Spears returned to the VMAs stage for the performance of her new song "Make Me…" as well as G-Eazy's, "Me, Myself & I." The duo heated up the stage with their mashup while Spears' dancing and costumes wowed the audience.
Drake and Rihanna Define Couple Goals: By the end of the night, surprise guest Drake had fans swooning when he presented girlfriend Rihanna with the most prestigious award of the evening, the Michael Jackson Vanguard Award.
"She's someone I've been in love with since I was 22 years old," the rapper admitted during his speech. As a thank-you for her honor, Rihanna took the stage four times, performing medleys of some of her biggest hits: "Work," "Needed Me," "Pour It Up," "Rude Boy," "Diamonds," and "Stay." The Barbados native has been breaking records and topping charts nonstop for eleven years. Needless to say, the Vanguard Award is well-deserved.
For more from this year's VMAs, click here.