The energy that resonated through the Quad on April 24, was overpowering. Students of every class year, Loyola faculty, and visitors alike couldn't get enough of Loyolapalooza's musical performances. To kick off the afternoon, Battle of the Bands winner Paradise Creek put on a animated performance which brought much hype to the already-excited audience. Next up was urban rapper Justin Love, who gave a steamy performance of love songs, some of which he sang a capella. Love was promptly followed by the highly anticipated main act, rock band The All-American Rejects.
The band includes lead singer Tyson Ritter, lead guitarist Nick Wheeler, guitarist Mike Kennerty, and drummer Chris Gaylor. I was privileged enough to sit down with Gaylor before the band's appearance, in which I learned a little more about the rock group that everyone fell in love with during their middle school years. Our conversation went a little something like this…
The Greyhound: What have you guys been up to lately? It's been a little while since we've heard from The All-American Rejects.
Chris Gaylor: We took a break for a little while; we wanted to spend time with our families. We've made a few demos for our fifth  album in that time.
TG: Who thought of the name, The All-American Rejects? What was your inspiration behind this?
CG: That was actually all Tyson and Nick. When they were about 16 years old, they would just drive around brainstorming band names. When they thought of a potential name, they would run into the record store. At that point in time, you could enter a name into the record database and see if the name was already taken for another band. I guess they tried and tried until they thought of The All-American Rejects, and that just stuck.
TG: What would you be doing if you weren't involved with music?
CG: I'd be a physical therapist. But, after being in this band for 12 years, I guess none of us are really qualified to have legitimate jobs [laughs].
TG: What's the biggest challenge that you guys face as a band?
CG: You go away for a year and people start to forget about you.
TG: What's your favorite concert that you've ever put on?
CG: We were in Indonesia once, and there had to be around 14,000 people there. Afterwards, the police let us ride their motorcycles. We didn't exactly blend in.
TG: How do you guys typically create your songs?
CG: Tyson will think of a melody and get a base sound going, and then it'll slowly take off and form a song.
TG: Is there any advice that you'd give to up and coming artists?
CG: Work really hard and keep at it. Social media has done a lot for people, but you can't just rely on putting a song on the Internet, you have to build a solid fan base.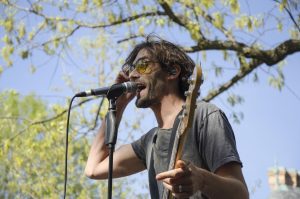 Soon after this interview with Gaylor, The All-American Rejects hit the stage and lived up to all of my hopes and expectations of an amazing Palooza performance. They were energized, interacted, and joked with the crowd, and even caused waves of crowd surfing to erupt throughout the excited student body.
During the show, Ritter made an interesting a comment about the band's name. He explained how although they chose the title 'The All-American Rejects' a long time ago, he doesn't think that there could be a better point in history to be what society has previously considered to be an outcast or a "reject." The members that make up this band aren't conservative in the slightest: they believe in gay marriage and equal rights for all, as they noted during their performance. Because of this, they go against mainstream thinking and fully embrace their name of "rejects" quite openly.
With this interview in mind, watching The All-American Rejects perform was truly incredible. And as a graduating senior, there was no better way to spend one of my last Sundays at Loyola than by listening to a band that so heavily shaped my formative years. My peers and I grew up listening to their music, and having the opportunity to see The All-American Rejects perform this past Sunday was almost like an ode to our youthful years, something that we're going to have to strive to hold on to long after we graduate.
Feature Image: The Greyhound Newspaper Photo, Courtesy of Jake Rauscher