Last Mon., April 18, the Loyola Asian Cultural Alliance (ACA) hosted a festival showcasing the different traditions, rituals, and holidays of several Asian cultures at a two-hour event called Asia Fest.
This festival of diversity brought hundreds of students together in McGuire Hall, seating them at tables with flags from several countries including the Philippines, Japan, and China. On these tables were scrolls containing information about each country and important key aspects about their cultures. Lining the walls of the hall were tons of food from several Asian cultures. Some of the food included fried rice, white rice, chicken, lumpia (Filipino spring rolls), and other delicacies.
In addition to the food, there were several performances that captured the beauty of various traditions through song, dance, and speeches. In order to fulfill Loyola's goal of diversity and to establish a strong sense of community, students from John Hopkins University were also invited to perform. As the opening act, a pair of JHU dancers performed what is known in China as the Lion Dance.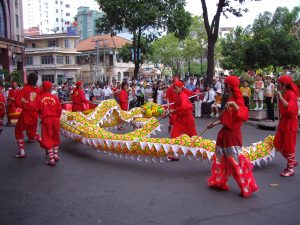 This dance, often mistaken for the Dragon Dance, typically only uses two people to control the lion costume. It is traditionally performed at special events such as weddings and during the Chinese New Year.
"I really enjoyed the Lion Dance. It was definitely something that was different from what I am used to," Gabe Nacion '19 said.
In addition to the Lion Dance, JHU students also performed a choreographed Slam Hip-Hop dance.
Loyola students performed dances and songs as well. The recently formed four-person step team PM Unleashed wowed the audience with their choreography and intense moves.
"My favorite part about Asia Fest was performing in front of the Loyola community," said PM Unleashed member Gideon Abadilla. "Although my performance was not directly related to the Asian culture, it meant a lot to see how many people came out to celebrate the Asian culture for APIA month."
In addition, Loyola senior Nicole Aldopho performed a traditional Hawaiian dance that brought beauty and grace to the stage.
Halfway through the event, members of the Middle East Relief Initiative gave a presentation on the struggles that Syrian refugees have endured . One member even gave her own personal story about how the Syrian refugee crisis is impacting her own family.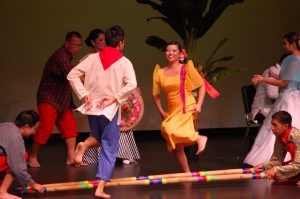 The final performance was a traditional Philippine dance known as tinikling, which utilizes large bamboo poles that dancers jump in and out of to a song. In addition to the performances and the food, there were also moments of interactive trivia with the crowd and the announcement of the new board members of the ACIA for next year.
Overall, the event succeeded in bringing the Loyola community together by showcasing different traditions and cultures. I learned about many different cultures that night and would encourage anyone interested to attend the event next year.
"This event was really interesting," Katie Bryant '19 said. "Not only because I learned about cultures that I was unfamiliar with, but was also able to try new things."
Asia Fest is yet another example of Loyola's efforts to increase diversity on campus. We have actively stepped out of our comfort zones in order to embrace cultural differences and end up learning new things and enjoying ourselves in the process. It is safe to say that Loyola is thriving in its goal of inclusivity, and I hope there will be many more similar events to come.
Feature Image: Dhammika Heenpella Photo, Courtesy of Flickr URL