It seems like right now, almost every woman in Hollywood is pregnant. Model Chrissy Teigen and musician John Legend just welcomed their first daughter, Luna, into the world on April 14. Fellow model Behati Prinsloo and her husband musician Adam Levine announced on March 10 they are expecting, which set off a firestorm of celebrity pregnancy announcements.
First came actress Megan Fox, who showed off a baby bump while promoting the latest "Teenage Mutant Ninja Turtle" movie on April 11, despite being in the middle of a divorce with soon to be ex-husband actor Brian Austin Green. However, according to People, the third child inspired the couple to postpone the divorce in order to work on their marriage.
Next came Blake Lively and Ryan Reynolds and Eva Mendes and Ryan Gosling. Both pairs of actresses and actors announced within hours of one another on April 14 that each couple is expecting a second child. More recently, actress Olivia Wilde shared a cute Instagram post with 2-year-old son Otis on April 18 to announce that he will soon have a sibling.
While there is sure to be a lot of talk about how the stars handle their pregnancies, possible baby names, and the eventual births of all these little celebrities, what is more interesting is what these women are doing for their careers in the midst of having children.
The current fourth wave of feminism continues the fight for equality nation-wide, and Hollywood is no exception. A number of celebrities, including Emma Watson and Jennifer Lawrence, have taken a stance to demand equality for women celebrities and equal pay for all women.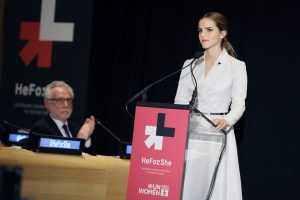 These moms are no exception to this movement, even if their stance may be sending a subtler message. They redefine the working woman, as each of them continues to debut new magazine covers and photo shoots and make appearances to promote their recent films. The continuous work they have put in right up until their pregnancy announcements really prove the dedication that they have to their jobs.
Life in Hollywood means constantly being put under a microscope and having every aspect of their lives scrutinized, yet these women do it in stride. Though in the past, some Hollywood mothers have been seen to pass their children along to a nanny, it seems that more recently, these new working mothers have really put an effort into spending time with their children and truly creating a balance between work and family.
These women not only fiercely protect the privacy of their children, but also continue to flourish in their careers. The blending of the careers as both actresses and as mothers sets a great example for women everywhere, as it proves that a woman can excel in both the workplace and at home, if that is what she chooses to do. Hollywood's working mothers are helping to end the stereotype that women all around the world face, ultimately helping to eliminate sexism and to promote gender equality.
Feature Image: Shinya Suzuki Photo, Courtesy of Flickr URL