"…But life is just a party and parties weren't meant to last…"
Another musical legend has left us this week. On April 21, at just 57 years old, "Purple Rain" singer-songwriter Prince passed away at his studio apartment in Minnesota, leaving fans and music-lovers everywhere completely speechless.
"It is with profound sadness that I am confirming that the legendary, iconic performer Prince Rogers Nelson has died at his Paisley Park residence this morning," publicist Yvette Noel-Schure informed the public Thursday afternoon. Officials say that no comment on the cause of death will be made until all findings from the autopsy performed on Friday are obtained.
Prince is credited with changing the music scene for good, and his seven Grammys and 30 nominations, Oscar for Best Music: Original Song Score, and multiple MTV Video Music awards (just to list a few) prove just that. Not to mention, he recorded an impressive 39 albums throughout his career in addition to being a composer, producer, and actor.
"A strong spirit transcends rules," Prince once said—and he did just that. As a strong supporter of individuality, Prince broke many musical and societal barriers throughout his career, paving the way for all to follow.
He was not one who cared much for normalcy. Instead, he did whatever it took to express creativity and originality, ultimately achieving such tags through his eccentric music, style, and behavior. As a result, he inspired others to express themselves without fear of limitations.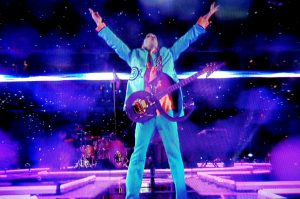 Prince was not just a singer-songwriter. Simply put, he was a genius. He was a multi-talented instrumentalist who played the guitar, keyboard, and drums. He was a fashion-icon, famous for his gender-blurred look and lyrics, something that was unprecedented in the '80s. He was an activist for diversity, and is known as the first black musician to have a music video regularly played on MTV. He was a true innovator who redefined pop, rock and roll, and rhythm and blues music. Most importantly, he was an inspirational icon, adored by millions of people across the globe.
As soon as the news broke, heartbroken fans, celebrities, and musicians took to social media to express their grievances and condolences over the traumatic loss.
"Thank you for inspiring us all and thank you for paving the way for artists like me," captioned R&B singer Miguel on his Instagram.
The Weeknd, another musician who was deeply affected, tweeted, "there's no one left…" In an interview with Pitchfork, The Weeknd explained just how influential Prince was, and still is, to his career, particularly because of Prince's ability to push the envelope, something The Weeknd believes is avoided by many artists.
Even President Obama was stunned by the unexpected death. A tribute on POTUS' Facebook page reads, "today, the world lost a creative icon. Michelle and I join millions of fans from around the world in mourning the sudden death of Prince."
Fans rushed to his star painted on the wall of First Avenue nightclub in Minneapolis to pay their respects, encompassing the memorial with flowers and treasured ornaments. This week, radio stations across the world are playing classic Prince hits and monuments such as the Zakim Bridge in Boston shine purple in his honor.
RIP, Prince: a musical legend.
Feature Image: Sound Opinions, Courtesy of Flickr URL