It looks like the youngest Jo-Bro is doing just fine without older brothers Kevin and Joe by his side. Nick Jonas is taking the music industry by storm with his self-titled album, released in 2014,  as well as the release of new music from his up-and-coming album "Last Year Was Complicated."
The album, which is expected to hit stores on June 10 as a part of Island/Safehouse Records, features 12 tracks and takes inspiration from his recent breakup with ex-girlfriend and former Miss Universe Olivia Culpo.
So far, Jonas has released two singles from the much anticipated record. On March 25, Jonas released "Close," which features indie-pop Swedish singer and songwriter Tove Lo. The personal single, which revolves around the fear of getting too close in a relationship, went straight to number one on the Billboard + Twitter Trending 140 Chart.
In addition to Tove Lo, the album will also feature Big Sean and Ty Dolla $ign. The second single, "Champagne Problems," is an upbeat dance song filled with Jonas' signature falsetto notes.
In an interview with Billboard, the 23-year-old said that the album title was actually created by fellow Roc Nation partner Jay Z. Jonas explained when asked what he was going through, he promptly replied with, "last year was complicated," which Jay Z then suggested to be the title.
On April 16, Jonas achieved a huge milestone in his career: he was the musical guest on the famous late night show Saturday Night Live. Jonas and Tove Lo gave a steamy performance of "Close" which was followed by "Champagne Problems" to end the show. During the episode, Nick also appeared in two skits.
Also, it was announced exclusively by People Magazine on Monday, April 18, that Nick was tapped to receive the Hal David Starlight Award at the Songwriters Hall of Fame 47th annual Induction and Awards. The esteemed awards will take place on June 9 in New York City.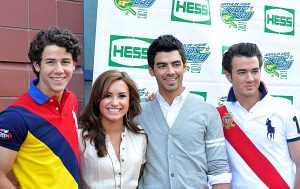 Meanwhile, brother Joe is doing just as well with the recent formation of his four-person band, DNCE, who made it big recently with their radio-hit, "Cake By The Ocean."
This summer, Nick will be hitting the stage alongside longtime best friend Demi Lovato as a part of the summer 2016 Honda Civic Tour. If you are interested in seeing the "Camp Rock" stars reunite this summer, be sure to check out tour dates and purchase tickets here.
Feature Image: Focka Photo, Courtesy of Flickr URL