Going to rehab typically has a negative connotation attached to it, especially when celebrities are involved. It is usually assumed that celebrities check into rehab in order to seek help for drug abuse and addiction-related issues. Celebrities are often scrutinized for going to rehabilitation facilities when in reality, they are doing so in order to better themselves and unwind from their stressful schedules. But there is a lot that the public does not understand about the situation. Despite the public scrutiny, Selena Gomez recently chose to open up about her decision to go to rehab in an interview with GQ magazine released on April 14.
Gomez is a childhood star that was thrust into the industry at a very young age. She's been in and out of the spotlight for years, going through both positive and negative experiences. Gomez explained that she tries to remove herself from that lifestyle when she gets the chance.
"It's either of two extremes," she said. "Either you're going to succumb to it and be surrounded by all the noise and enjoy it and get the rush from it, or you're going to be so far off of it because you don't trust anyone or think any of it's genuine. That's the girl that I am."
Gomez's time in the spotlight has typically been consumed with talk about her relationships with friends or boyfriends–almost everything under the sun other than herself, how she's doing, and her life goals. Gomez is most often discussed in the media with regards to her previous relationship with singer Justin Bieber. But beginning in January 2014, she was in the spotlight for another topic: rehab.
When the story first broke that Gomez went to rehab, many assumed that it was for substance-related issues, but her representatives quickly dispelled this rumor. In the GQ interview, she explained that she was trying to deal with very personal issues, such as being diagnosed with lupus, getting chemotherapy treatments, and dealing with her mother's miscarriage. She was having a stressful year to say the least, and going to rehab was a way to help her through those circumstances.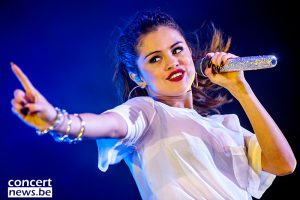 Gomez wasn't pleased with the idea of her rehab visit being a focal point of the interview because the decision is no one's business but her own. "My past seems to be way more fascinating for people than my future, which bums me out," she said.
Celebrities are constantly at the center of attention, so the rest of the world thinks that the inside scoop about their daily lives should always be common knowledge. Selena Gomez may have gone to rehab, but that doesn't define her. Gomez is optimistic about the future and is moving forward. Now, she's focusing more on herself, her music career, and acting and producing jobs for the near future.
Feature Image: Lunchbox LP Photo, Courtesy of Flickr URL