This past week, the Blackbox Theatre in Loyola's College Center provided a place for the university's comedy sketch group, the Nevergreens, performance for its spring show. For two nights only, March 18 and 19, the 15-person cast put on a hilarious production that left the audience doubled over and teary-eyed.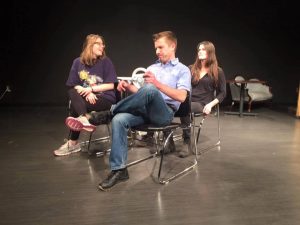 The various skits written and directed by the cast members themselves covered a wide range of material. Some sketches were harmless and put interesting spins on mundane events such as college campus tours, like "How's the Food Here" written by Kaitlyn Gallagher, while others poked fun at more controversial topics, like the 2016 presidential election in "Wendelection," written by Michael Ebmeier. Another skit explored the stereotypes that someone might encounter while waiting in the Loyola Starbucks line, comparing it to a safari show. Another skit mimicked Saturday Night Live's Weekend Update with the "Nevergreen News Network." One of the funniest bits included singers Lana del Rey and Ariana Grande surprising a couple's wedding.
Whether it aimed to provide social commentary or mock pop culture, each skit brought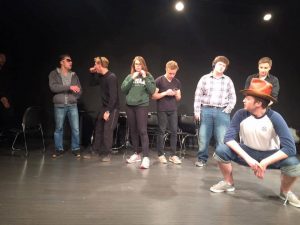 an ample amount of amusement to those in attendance. Actors bravely stepped out of their comfort zones, portraying unconventional characters, and deliberately thought outside the box in order to provide their audience with unique and truly unforgettable performances.
The final skit of the night, entitled "Grievances," written by Gallagher, brought attention to the risky nature of the Nevergreens' humor. Victim after victim stormed in to express their grievances to departing Nevergreen seniors, who were in the middle of writing apology letters to everyone that they had offended throughout the years. Senior Michael Ebmeier is known to take on particularly daring roles, often involving crude language and inappropriate actions. When asked about whether or not he worries about the audience's reaction to his characters, Ebmeier admits, "Absolutely not. We've gotten bias reports before, but we were informed that, especially as a cultural performance group, Loyola's academic freedom protects us completely."
For some of Nevergreens, the bow at the end of Saturday night's show was their very last. Senior Katie Seifert not only bid farewell to a talented group of people, but a treasure chest of funky characters with crazy accents and voices. Her most memorable performance of the night was as Mammy of "Dewey Hunting," an old psychotic southern lady who gets caught in a fist fight with a group of college students looking to rent the beach house next to her home. Seifert shares that channeling these unique personalities comes quite naturally. "For me, it's really about channeling all of the adrenaline from performing and just throwing it back out at the audience," she said.
Even though their shows can get wilder than some
may be able to handle, the Nevergreens leave us with a rather simple message: At the end of the day, no matter how rough it gets, the only thing left to do is laugh. Comedy is one of the few things in life that should always be taken with a grain of salt, as its only goal is to spread laughs to an audience who needs them.
Feature Image: Hayley Yackavage Photo, Courtesy of Loyola University Maryland