Over Fall Break a team of 14 cadets, including several Loyola ROTC members, competed in the annual Ranger Challenge Event at Fort Pickett, VA. The team placed fourth amongst 42 other teams that represent the 4th Brigade in the Mid-Atlantic area consisting of states like Delaware, Maryland and Virginia. Placing in fourth place far exceeded the expectations of the team, who placed in the mid twenties the previous year. Patrick Makles '16, was the Cadet Officer in charge of the team, much like a captain of a regular sports team, and supported the group of 14 (including three reserves) in an extracurricular that ROTC students across the country fight to compete in.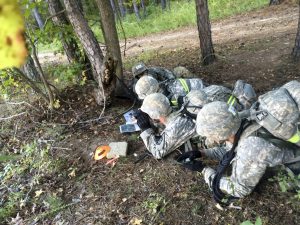 Makles described the Ranger Challenge as simply part of ROTC tradition and something that all brigades across the country take part in, in hopes of coming out on top in their area to make it to the Sandhurst Competition at West Point. An event like the Ranger Challenge is of crucial importance to our ROTC chapter, as well as chapters across the country. Cadet Emily Wolfson '18 described the importance of the competition, "joint training events with other schools and organizations facilitate cohesion as they produce more diverse, adaptive leaders" and also push cadets to better themselves.
This year, University of Delaware placed first, followed by our Charles Street rivals John Hopkins University, and Appalachian State University rounded out the top three.
For Loyola's ROTC program to place fourth amongst much larger schools is especially impressive, as these programs tend to have more cadets to choose from, more resources and more funding to run certain programs. As the Cadet Officer in Charge, Cadet Makles explained that Loyola's small size is not a detriment, but instead a helpful asset as cadets learn to work harder with less while, also getting more one on one training with their instructors, "we produce better leaders and critical thinkers and people who can adapt to different situations."
Loyola's ROTC cadets already train every Monday, Wednesday and Friday for multiple hours a day, but the Ranger Challenge team would come early and stay later than all of the others to prepare for the event. Most days of training started at 5 a.m., if not earlier, and consisted of physical fitness challenges as well as critical thinking and teamwork exercises.
These cadets and their hardworking attitudes serve as a po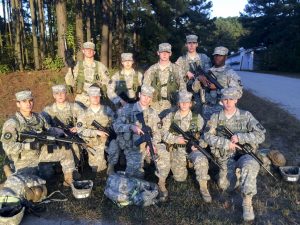 sitive influence on others, as Cadet Makles explained "usually the cadets on the team are the best of the best, so when the rest of the battalion, especially younger cadets see the Ranger Challenge team its something they can aspire to."
While most students can't image getting up at 5 a.m. to work on intense challenges, this commitment to going above and beyond set the team up for success. Cadet Michael Intrabartola '16, has participated in the Ranger Challenge for three years and noted that Makles' leadership was something that set this team a part. "This year's competition stood out the most to me because of three simple things," explained Intrabartola, "The first aspect was that we had a leader unlike any before. Makles spent much of his own time setting up practices that tested us more than in previous years."
The increased training and focus on teamwork was crucial when the members competed in the first Ranger Challenge event to ever occur all in one day, from about 8 a.m. until 5:30 p.m., with non-stop challenges. The Ranger Challenge tests tactical, technical and physical skills of the cadets with challenges such as using critical thinking to negotiate and get information from staged "nationalists," identifying different types of weaponry, and saving a mock solider by physically building a rope bridge.
Both Cadet Intrabartola and Cadet Wolfson stated that their favorite part of this year's one-day event was the Commander's Challenge. The team reached this event after running several miles and working together to lift logs weighing over 300 pounds, which was an interesting task for a 5 feet 3 inches Wolfson working with teammates as tall as 6 feet.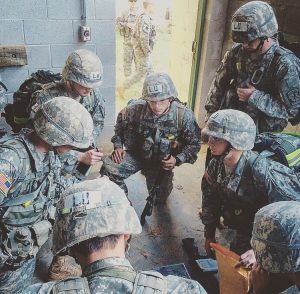 Cadet Intrabartola explained that this particular event was a highlight for him after four years of competing because it reiterated how willing each member of the team was to support one another and work cohesively as a team.One part of the competition that stood out was the cadets' ability to adapt to challenges, particularly highlighted by the fact that Cadet Ross Fields of Towson University continued to help his teammates even with an injury.
The importance of Cadet Fields' commitment to the group and their goal of succeeding was summed up simply, by Intrabartola "Knowing that it would be hard for us to compete without him, Fields made the decision that he would not let this injury derail the team's momentum. He would go on to complete the nine-hour competition with a sprained ankle, never asking for special help or time to rest."
Looking forward to next year's competition, Cadet Fields resilience paid-off as he will be the Cadet Officer in charge. Cadet Wolfson shared that the team hopes to improve upon their already impressive fourth place finish, "If we're prioritizing our goals, it's safe to say that number one on the list is to bring back a trophy, a task that can only be accomplished through hard work and preparation."
After the extremely successful finish for the team, the cadets were told that they could take off from their regular PT training with their battalion, but many including Cadet Makles, still attended, showing what "leading by example" truly means.
If you're interested in learning more about Loyola's ROTC program, visit their Facebook page :https://www.facebook.com/loyolarotc
Photos courtesy of Cadet Geena Cantalupo