Men's Basketball 2022-23 Season Recap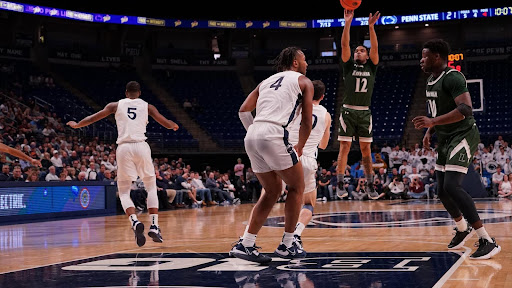 A 92-73 loss on Thursday, March 2, against number-one ranked Colgate in the second round of the Patriot League Tournament saw an end to the Loyola Greyhounds men's basketball team's season. Colgate would go on to win the Patriot League Tournament which qualified them for the NCAA Division I Men's Basketball Championship.
Looking back on the regular season, the Greyhounds finished 13-20, with a record of 7-11 in the Patriot League to secure the eighth seed. The Greyhounds were 9-6 at home, 3-13 on the road, and 1-1 in neutral sites. They ended the season on a high note, winning four out of their last five games in which they averaged 84.3 points. 
The Greyhounds were led by graduate student Kenny Jones, Deon Perry '26, and graduate student Jaylin Andrews. Jones posted two games in which he had 10 assists, the first against Binghamton and then again against UMBC. He was one of 23 players nationally to have two games with 10 or more assists this season and was one of 29 players in Loyola history to have 10 or more assists.
Perry on the other hand focused on scoring and burst into the Patriot League to make his presence known. He already has 372 points scored at the end of his first season at Loyola and averaged 11.4 points while shooting around 42% from three. Within the conference, he averaged 13.6 points while shooting 43% from three. Perry finished his first year shooting above 90% from the free-throw line as well. Due to his elite ability to score, Perry became the first player in Patriot League history to earn Player and Rookie of the Week in the same week on Feb. 27. 
Both he and Jones were in the top ten in the Patriot League in steals as Jones ranked third at 1.74 per game and Perry ranked sixth at 1.65 per game. Andrews was the third leading steal-getter (1.0 per game) as he earned 31 steals throughout the season. This effort allowed the Greyhounds to accumulate 239 total steals, the most within the Patriot League per thirty-one games played. 
All three teammates averaged 11 points per game and were crucial in leading the team to the second round of the Patriot League Tournament. Other notable players were Alonso Faure '24 who averaged 8.9 points and 6.1 rebounds per game, and Golden Dike '23 who averaged 7.3 points and 6.7 rebounds per game. Both Faure and Dike increased their scoring and rebounding from the previous season.
Next season, the Greyhounds will have a different look as there are a few players who already have graduated or will be rising seniors. They will look to younger players like Deon Perry for scoring and possibly find some new faces from either the transfer portal or recruiting process. Overall, the season was a successful one and they will look to establish momentum heading into the 2023-24 season.
Leave a Comment