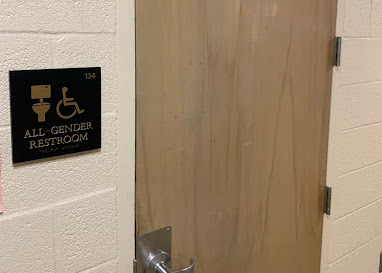 The following represents the opinion of the student reporter and does not represent the views of Loyola University Maryland, the Greyhound, or Loyola University's Department of Communication.
When asked to reveal my favorite bathrooms on campus, I was quite hesitant. However, I ultimately decided to allow some of my favorite bathroom locations to be public knowledge. I refuse to use my own bathroom, so I have a litany of locations to use frequently. The biggest factor of a good bathroom in my opinion is privacy. It is more important than comfort. 
The residence hall bathrooms are nice overall, but each building does have their own drawback. The Newman bathroom near Iggy's provides a quick trip, while I wait for my Fresh West and a last-minute trip before I go to my room, however, it is too public for my liking. The Campion bathroom in the lounge is a great option because it is not used very often. The biggest problem with this bathroom is that the Desk Assistant is standing guard right in front of the lounge, so when you exit, they clearly know what just happened. 
The Hopkins Court bathrooms might be one of the best because there are many scattered throughout the hallway. The biggest downside is that a limited number of users would use each bathroom, so anonymity is nearly impossible. Loyola transfer student and former resident of Hopkins Court, Will Wieland '24, had a different opinion.
"My roommate and others in the hallway were discouraged from using those bathrooms [in Hopkins Court] because of their condition," said Wieland. 
Like myself, privacy is key for many other bathroom users. Luke Myers '26, a frequent user of the Sellinger basement bathroom, spoke on his preferences. 
"Honestly, when it comes to bathrooms, that one is my favorite," Myers said. "It has air conditioning and is always empty." In my opinion, Sellinger overall has great bathrooms, but they are a bit smaller and in between classes become heavily populated. 
Beatty Hall and the Fernandez Center have a plethora of bathrooms, featuring a ton of sinks and mirrors. These bathrooms have everything I like. Brian Holder '24 is also a fan of the Fernandez bathrooms.
"The basement of Fern is always clean and empty, especially late at night when you're the only one on the floor," said Holder. Recent Loyola alumnus Christian Hlewicki '22 agrees.
"Honestly, the Fernandez center all gender bathrooms felt like I had even more privacy because of the walled-in stalls," said Hlewicki.
Personally, I prefer the bathrooms in Humanities over Fernandez. Humanities bathrooms offer a lot of privacy and are never busy. The bathroom I like to use features a table next to the toilet; this is very convenient if you have a backpack, purse, or anything else you would usually set on the floor. The only disadvantage to this amazing bathroom is the fact I rarely have any classes in Humanities, and there is no justification to enter solely for a bathroom. That would just be embarrassing. When asking my peers about their favorite bathrooms on campus, Lukas Hall '23 shared his thoughts.
"I study in the conference room underneath the Chapel because it is quiet; the bathroom in the area is extremely private, but not as nice," said Hall. 
The winner of my favorite bathroom is hidden in a secluded location. It has very low student traffic and requires stairs or an elevator to reach. Many of my friends have just discovered it, but most faculty and students have no reason to use this bathroom. I'd reveal more, but I can't give away all my secrets. 
Featured Image courtesy of Richard Clow.