From the Julio Fine Arts Gallery, vibrant displays peek out from the first set of pieces in the 2019-20 opening exhibition: René Treviño's "Stelae," open through Oct. 11. Students walking through the Student Center often, whether coming from or going toward Starbucks , probably have passed the gallery opening that radiates such bright colors of pink and hints of gold. Stopping and engaging inside is timely, transformative and worth-while.
Gallery director and curator Megan Rook-Koepsel spoke to the current solo exhibition for René Treviño's "Stelae" and the larger use of the gallery. Rook-Koepsel plans to use her second year at Loyola to further connect our community space to Baltimore artists that "have something to say" in particular. She explained her view of her role as a curator as one who sets the theme, fosters connections with local artists, promotes Baltimore's art community, and thus provides a medium for students to connect "outwardly and inwardly."
As a curator, she considers intentionality and timing. After reviewing pitches—and her own admiration of different artists—Rook-Koepsel expressed excitement to finally have a platform to share with Treviño, an artist she had known for a long time and one who has deep, established ties to broader Baltimore.
She explained that while it may be "sort of taboo to say," his artwork should be classified as "beautiful." His artwork is vibrant, visually pleasing, and he himself describes it as fun as he "[injected] rainbow color and a sense of humor." Such is seen in his treatment of his piece directly confronting death fittingly titled, "Dropping Like Flies." Rather than focusing on gore and pain, Baltimore artist Treviño channels humor, "sparkly" images, and pop-culture into relevant content.
Treviño's exhibit shows deep identity infusion with personal history and representation by integrating his gay and Mexican-American identity components.
Rook-Koepsel said that "identity formation is a huge thing that happens in college…and a lot of artists are also exploring that in their work." She went on to note that the fact that they engage in this process of discovery in the public might help people "not feel alone in the world" depending on what resonates.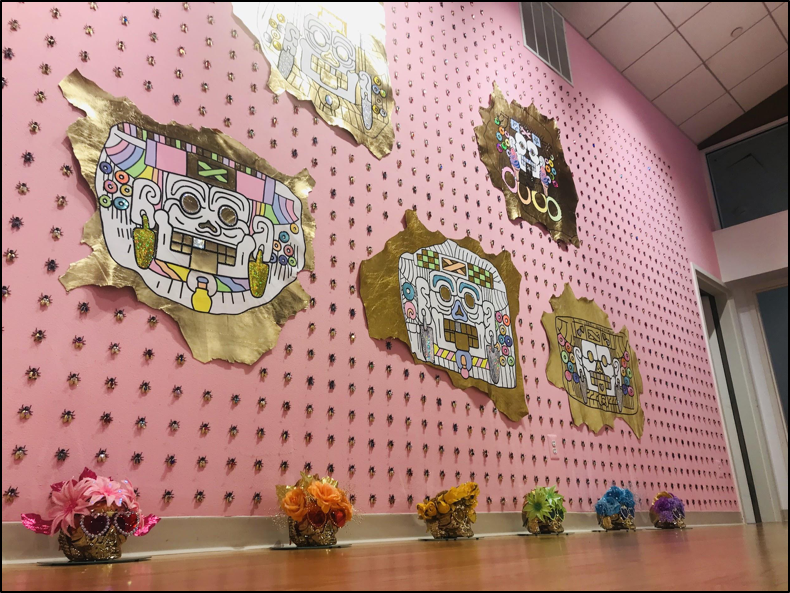 Rook-Koepsel reminded viewers that Treviño's work "takes content that is important in nature but [pulls] you into it with the bright color and sparkles." He wants the audience to engage with the topics, and in a highly detailed and meticulous way, he connects his own identities and fitting pop-culture references to make his work more personable, speaking both to future and past implications. Simply put, he shows brighter elements to darker subjects.
Further, it is fitting that this exhibit also exists within National Hispanic Heritage Month (Sept. 15 to Oct. 15), which includes the contributions of cultures like Mexican ones that add to certain American identities.
Treviño presented the exhibition at the Julio Fine Arts Gallery's opening on Sept. 19. There, speaking to painting on goatskin (as done in the pieces hung above the six skulls sculptures representing the Day of the Dead), Treviño said, "it carries its own character with it…it gives such a unique texture to my art and it's my own twist on my heritage that makes it even more special."
Bmoreart also promoted the artist's presentation on Sept. 19. Copies of interviews done for its statement can be taken from the front desk of our gallery space.
Speech Language and Hearing Pathology major and Fine Arts minor Kristan Koszat '20, a work-study student in the gallery, admits that when helping in the unique behind the scenes set up, she voiced to the artist her belief that the bejeweled fake creatures on the pink wall were similar to "gucci bees" of sorts. The artist corrected Koszat by explaining that they were flies because often they are associated with death—in the decaying process. While Koszat expressed slight embarrassment at her initial misinterpretation, she also remarked this moment as one of many unique points where, because of her work-study position, she is able to connect further, seeing the art spaces take different forms and witnessing different aspects of the art world.
As with most solo and group showcases in the Julio Fine Arts Gallery, set up is relatively quick to allow for more time to use the space. Koszat explained that painting the wall pink, putting up over 1,000 gold-leafed plastic flies, and prepping other elements for the exhibition took under a week.
Feature Image: Courtesy of Michelle Reilly, Artwork: Treviño's "Ballplayers in Love"