Women's Lacrosse Defeats American to Stay Undefeated in Patriot League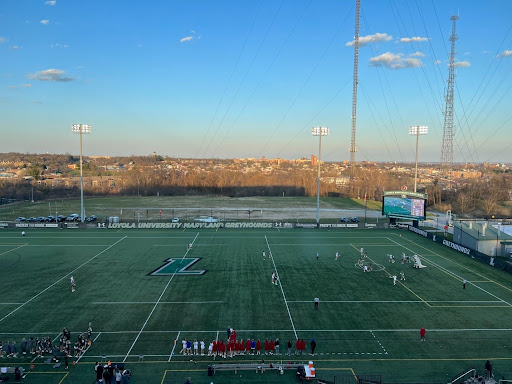 Loyola Maryland's women's lacrosse team defeated the American University Eagles in a Patriot League contest by a score of 19-7. The Greyhounds improved to a record of 8-2 and moved to 3-0 in Patriot League play.   
The Greyhounds were led by graduate student Jillian Wilson, who scored a career-best six goals, and midfielder Chase Boyle, '25, recorded a career-best five goals.    
Coach Jen Adams gave her star midfielders high praise following the game.  
"For them to be out there doing what they do at the circle (faceoff) and then having defensive matchups, running the midfield, scoring goals, getting assists," Adams said. "They are really doing it all and it is pretty unique." 
Boyle attributed her team's success to playing the "Greyhound style" of lacrosse.   
"We are definitely most successful when we play our game which is full speed and intensity," she said. "No matter what competition we face, we are constantly playing Hounds lacrosse and that's what sets us apart from the rest."  
The Greyhounds came out firing on all cylinders, scoring eight goals in the first quarter, a season-high for goals in a quarter. Sydni Black '23 led the way, scoring the first goal of the game and finishing the quarter with a hat trick. The squad continued to add to the scoreboard, adding seven goals in the second quarter and going into the halftime locker room with a 15-5 lead. Wilson tallied five goals in the first half. Boyle followed in pursuit with a first-half hat trick of her own. 
The Greyhounds outscored American 4-2 in the second half, finishing the game with season-highs in goals, assists, shots, and shots on goal.
All three conference games have been decided by a margin over double digits. Despite the victories, Coach Adams emphasized the room for growth. 
"We need to be training in a way and practicing in a way and playing in a way against every opponent where we walk off the field we are proud of our efforts," she said. "What it really comes down to is consistency for a full 60 minutes." 
Adam's demand for excellence has forced Loyola to constantly seek improvement, even in games where they are leading by a large margin. These blowout victories have also allowed underclassmen and newcomers to get live game experience. Adams has valued time for her younger players to receive playing time. 
"To get both valuable time in the field and time playing without experienced veteran players where you have some youth in with the experienced players who can take them under their wing and work together," Adams said. "They have been doing a great job, some exciting stuff we are seeing and some stuff that is really helpful to draw experience from as well." 
Backup goalie Makenzie Butler, '26, recorded a save in the fourth quarter, causing a roar of excitement from the Greyhound sideline. The starters were taken out with six minutes left in the game, celebrating every successful play their teammates made from the bench.  
The Hounds look to continue their hot streak Saturday, April 1, as they take on the Holy Cross Crusaders at Ridley Athletic Complex.
Leave a Comment