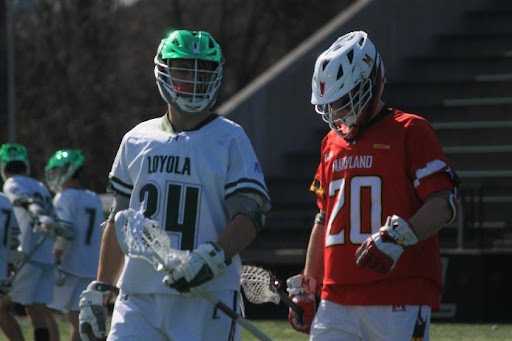 Lacrosse, one of Maryland's main sports, is going to officially be a part of the 2028 Summer Olympic Games in Los Angeles.
According to an article released on Monday, Oct. 16 by the International Olympic Committee (IOC), lacrosse is set to be one of the five new sports to be added to the program for the Olympic Games Los Angeles 2028 (LA28). Adam Poitras '23, graduate student and attackman for the Loyola Men's Lacrosse, claims that it is an exciting decision.
"I think it's awesome. I think lacrosse has been growing as a sport in the last ten years, not only in the U.S. and North America but also worldwide. I think that it's just going to increase its popularity and bring more people to the sport. There's no negatives to bringing the sport of lacrosse to the Olympics," Poitras said.
Lacrosse's origins date back to North American Indigenous cultures before it became popular overseas in the late 19th century after being modified by European colonizers. Head Coach of the Loyola Men's Lacrosse Team, Charley Toomey, describes it as a combination of sports.
"I like to say that lacrosse is a combination of a lot of sports already being played. It's got an element of soccer where the players are free flowing and can go up and down the field, it shows athleticism in that way. It's like ice hockey in that it's a physical game and there are sticks that are used to creating an exciting place, but there's definitely a physicality in it that ice hockey has. And there's basketball where you can see offensive patterns, pick places, and different things that can be done to try and create leverage for a team offensive. It incorporates a lot of skills from multiple sports, and it is a really exciting game that will be on a platform to be showcased now that it is in the Olympics. At the end of the day, it's a fun game," Coach Toomey said.
While the sport is mainly well known in the United States and Canada, Coach Toomey claims that the popularity of the sport is increasing abroad, and the Olympics will help increase awareness of the sport.
"Right now, both on the men's and women's side, there are field games being played mostly in Canada and the United States professionally. Outside, they're basically club organizations. But the U.S. Lacrosse has done a terrific job to get sticks in the hands of athletes at a younger and younger age. So, we're trying to develop a grass roots level of lacrosse and start it way before high school. I see kids that are 7 years old playing the sport here and it'll be pretty cool when you see kids that are 7 years old from other countries, and that's what this will have the ability to do for our sport," he said.
Coach Toomey also claims that other countries are already entering the sport, and some European nations already hold teams of their own.
"This past summer, I had the opportunity to coach for the US National Team and there were about 30 countries that participated. Teams like Jamaica, Germany, France, Italy, you name it, among the traditional powers like America, Canada, England, and Australia. When you have some of the teams of Germany and Jamaica playing it's really exciting for our sport. With the backing of the Olympics, the IOC, from a funding statement, will start to resource the sport so that they can have success playing," Toomey said.
In regard to Olympic participation, Poitras claims that if he were given the opportunity to represent his home country, he would, and even recalled his own experience participating in the Canada Men's Under 21 competitions in Ireland.
"There's no better feeling than to represent your country, and the success we had over there was a lot of fun; meeting new people you usually play against and now you play together, realizing what great players and people they are, and building relationships you have for a long time," Poitras said.
Meanwhile, Coach Toomey claims that the IOC's decision might lead to Loyola expanding their search for lacrosse players.
"For us, as coaches at Loyola, we may be recruiting players from other countries. I think that's exciting for any team that plays lacrosse. Typically, you investigate Canada and the United States when you look for players, but to have the ability to recognize players who are playing the sport in other countries is really exciting," Toomey said.
Besides Poitras, Toomey claims that Loyola holds other players that have represented their home countries, including graduate students Cam Wyers and Matt Heuston. 
"To give these kids at Loyola the platform where not only they can represent their university but also their home country, is really exciting," Toomey said.
The opening ceremony for the LA28 Olympics is scheduled to occur on July 14, 2028.