The Patriot League Championship Tips Off in Reitz Arena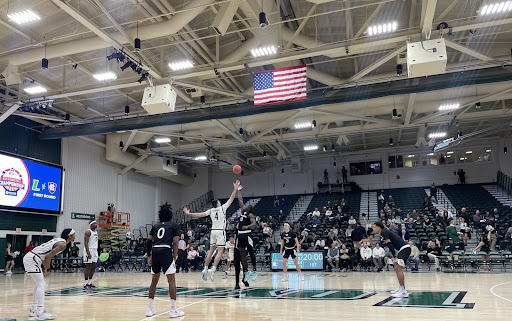 On Tuesday, Feb. 28, the Loyola Greyhounds faced the Holy Cross Crusaders for their first game of the men's basketball Patriot League Championship. This is their third time facing Holy Cross this season, with the most recent matchup occurring on Feb. 22 when the Greyhounds defeated the Crusaders 90-68.
Loyola is making its 10th appearance in the Patriot League Championship since joining the conference in 2013. Following the Greyhounds' triumphant win against the American University Eagles last Saturday, Loyola's standings in the league gave them the advantage of beginning this year's championship on their home court in Reitz Arena for the first time in several years. Guard Deon Perry '26 spoke about the team's morale going into the contest.
"We really prepared for this game. We knew [Holy Cross] was going to come in with something different for us since we just played them a couple of days ago," Perry said. 
Perry was prepared as he was the leading scorer of last night's battle, putting up 25 points for the Hounds and adding four assists. The freshman has had a record-breaking season, especially in the second half of the year. He was the first player in conference history to be named both Player and Rookie of the Week. He was also most recently named to the Patriot League All-Rookie Team but he does not let the accolades get to his head. 
"I'm just having fun out there," Perry said. "I know I'm a scorer and I just look to create for myself and my team throughout the game." Head Coach Tavaras Hardy spoke on the impact that Perry has had on the team's performance throughout this season.
"Deon is a phenomenal young lead guard that's learning the game. He wants to do what's right," Hardy said. "When it got tight [in the second half], he made a run by himself and we needed that."
Forward Golden Dike '23 was also a stand-out in Tuesday night's contest as he matched his season-high of 16 rebounds. However, it was Dike's steal and dunk in the final two minutes that created an uproar in the arena. He agreed that this was a very memorable play in the game.
"It really was a great moment. I just went for it, it worked out, and it was huge for us," Dike said. His teammates also felt the momentum soar in those last few minutes. It was a game-sealing run that lit up an already electric crowd.
Players and coaches on both benches left it all out on the court: blood, sweat, and tears (literally). With the season on the line, tensions and emotions were high but the Hounds kept their composure until the final buzzer. 
"I love this game, I've been playing since I was eight," Dike said. "I just put my whole body and soul into the game tonight so that's why I was so emotional." Even with the high stakes, Hardy keeps his squad humble and focused on what lies ahead. 
"March is conference tournament time so there's going to be some end-of-season emotions," Hardy said. "But you can't let yourself get caught up in things that don't affect winning."
With a final score of 73-69, Loyola has now won five of its last six games. Student manager Nick Giuliano '23 reflected on the dedication that the team has demonstrated throughout the season.
"It's been great to finally see a playoff win in person," Giuliano said. "I've seen the guys work so hard to get to this point and it's so rewarding to see it pay off with a big home win."
As the Hounds move into the next round of the Patriot League tournament, they will take on Colgate University, the reigning conference champions. Colgate currently holds an overall record of 23-8 with only one loss in conference play. When asked about how the team is preparing, Hardy was optimistic that they have the pieces to pull out a win and advance in the tournament.
"We've had some stretches this year where we've had it clicking and if we can get it clicking for two halves against Colgate, I feel like we have a really good shot," Hardy said.
Loyola will be looking to extend their winning streak when they head to Hamilton, New York, on Thursday, March 2. You can stream the match against top-seeded Colgate University on ESPN+ at 7 p.m.