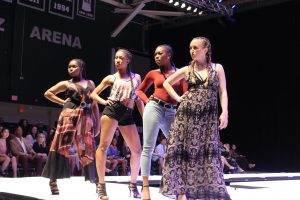 On Friday, March 24, the Black Student Association (BSA) and African, Latino, Asian, and Native American (ALANA) Services hosted the 19th Annual Fashion Show in Reitz Arena. Entitled "Black Allure," this year's event showcased this spring season's fashion, highlighted Loyola's talented students, and celebrated African American culture.
The BSA Fashion Show is not just an event where models walk up and down a runway. It is a celebration of black culture through the expression of fashion, music, dancing, and spoken performances. Members of the BSA come from all backgrounds, furthermore proving the organization's and Loyola's core value of acceptance.
Directed by Leah Hill '17, Breeanna Sampson '18, and Ayana Rhym '19, Black Allure consisted of four scenes, each of which was further enhanced by scene leaders, scene assistants, and student models.
All of the student models graced the stage with confidence and expertise in their own unique way. Each had a signature catwalk strut and accompanying dance, rhythmic, and even gymnastic moves. The crowd went crazy when student model Jeleel Yussuf '18 nailed a backflip to the beat of the music center-stage, leaving Willis in shock for the remainder of the show.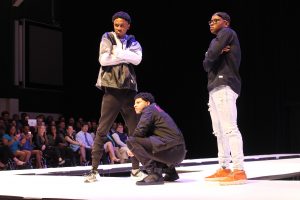 The four scenes, in order of presentation, were: I Love Myself, Blood by Design, Love Yourz, and Adoration. Each showcased different designers, student models, and music. In addition to these fashion portions of the show was a spoken word performance. During this time, Jordan Zolliecoffer '19, Joy Holland, and Zaakiyah Rogers powerfully conveyed important messages of empowerment and resistance.
By the end of Adoration, models walked to the front of the catwalk as #BlackLivesMatter appeared on the big screen behind them. They held up their fists in a moment of unity that brought attention to a movement that is increasingly prevalent today.
Paul Valdes-Rodriguez '17 and Seth Willis '17 successfully fulfilled their roles as hosts as they brought humor and energy to the stage throughout the evening. The pair introduced and reacted to scenes while often poking fun at their peers and themselves.
Before the end of intermission, Rodriguez and Willis delivered Loyola's most anticipated news of the semester: T-Pain will be headlining Loyolapalooza on April 30.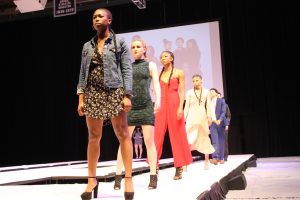 Hill and Rhym took to the stage to close out the show and deliver their emotional thank yous. All of the individuals who made the show possible were recognized during this time.
All hair and makeup was done by Baltimore's Roshe Cosmetics and BEAT School of Makeup Artistry. Much credit was also given to the handful of student volunteers, coordinators, managers, and designers who all played a substantial role in production of the event.
Clothing for the event came from a mix of national and local brands. Loyola students of all years confidently walked the catwalk draped in fashionable pieces from designers like Free People, South Moon Under, The Men's Warehouse, and FRS.
For the women, common attire included jumpsuits, bodysuits, and two-pieces. Perfect for the spring and summer seasons, many of these pieces were accompanied with floral designs and light, flowy material. As for the men, statement pieces were very popular. Bomber jackets, graphic t-shirts, and neutral tones were repeatedly styled. These looks are all versatile, timeless, and should be staples in anyone's wardrobe.
Black Allure was a well-produced show and the annual event is something that every Loyola student should experience at least once during their time here. Support your friends and BSA! I promise that you will not regret it.
All Photos Courtesy of Brittani Borden '18