Well folks, she's done it again. With the last TGIT (The last episode of the year airing Thursday evening,) Nov. 18, ABC producer and writer Shonda Rhimes has left us on the edge of our seats with more questions than answers. Shondaland creations, including "Grey's Anatomy," "Scandal," and "How to Get Away with Murder" bid a temporary farewell for their mid-season breaks, leaving their audiences eager for more.
The second season of "How to Get Away with Murder" has left us in a daze of awe and confusion as the scandals surrounding the Keating 5 (professor and lawyer Annalise Keating and her five talented students) get more and more complicated. With the murder of Leila Stangard swept neatly under the rug, Keating and her students take on the Hapstall murder case, where adopted children Caleb and Catherine Hapstall are accused of killing their millionaire parents. As the case progresses, Annalise and the Keating 5 soon come to realize that their clients are hiding something from them, but they don't know what it is.
The fragile line between innocent and guilty becomes even more blurred when Keating and her students discover that their client, Catherine, has been working with one of the case's prime suspects. When Caleb finds a gun hidden in Catherine's room, Catherine's innocence is questioned even further, and Annalise decides that she will only be representing Caleb in court.
Murders become increasingly harder to cover up when Asher Millstone, one of the Keating 5, intentionally runs over — and ultimately kills — ADA Emily Sinclair, the prosecutor of the Hapstall case. With this, the arrest and imprisonment that the Keating 5 have been able to swiftly dodge is looking all but inevitable.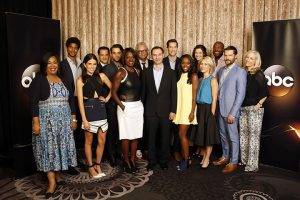 Alliances that once held strong are weakened by betrayal, and trust is nowhere to be found. Because they were all involved in the murder of Annalise's husband, Sam Keating, the Keating 5 have stuck together and looked out for each other no matter what was at stake. But with the murder of Sinclair, Connor Walsh has decided to abandon the rest of the group, saying that he can no longer take having to cover up murders that they are guilty of.
To hide Sinclair's murder, Asher and Bonnie Winterbottom, Annalise's right hand, throw her off the roof of the mansion. In order to frame Catherine for the murder, Annalise stages a phone call to the police claiming that she has been shot, and asks one of the five to shoot her in the leg. Stunned, each declines the offer, until Annalise tells Wes Gibbins, her most beloved student, that she is responsible for his girlfriend Rebecca's death, and he shoots her in the stomach.
In the final moments of this episode, one of the biggest secrets of the show is revealed. Filled with anger, Wes goes in to shoot Annalise once more, but he stops when she calls him Kristoff, his birth nameWe are then taken back to years ago, where Annalise and her lover, Eve, are seen watching over Wes as the police interrogate him about the death of his mother.
This revelation only leaves our heads spinning with more questions. Is Wes the long lost son of Annalise, and if so, why did she give him up? Will Wes spare her life, or will Annalise die from the bullet Wes lodged inside of her? Will the Keating 5 finally pay for everything they have done, or will they once again get away with murder? Tune into ABC on Thursday, Feb. 11,, 2016 at 10 p.m., to find out.
Feature Image: Disney ABC Television Photo, Courtesy of Flickr URL