The American Music Awards (AMAs) aired Sunday , Nov. 22 on ABC, and it certainly did not disappoint. Hosted by Jennifer Lopez, the show was full of today's biggest artists, including 20 performances as well as awards to crown to the best of the best in the music industry. In case you missed it or simply want a recap of the night's biggest moments, here is what you need to know:
Charlie Puth and Meghan Trainor
Taking the crowd by surprise, this musical pair spontaneously started kissing following the first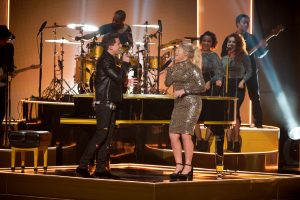 primetime performance of their duet, "Marvin Gaye." While it shocked the audience, these artists did set a longest kiss record while filming the music video for this hit song. Regarding their AMAs incident, Puth claims that the two are just good friends.
The Performances
-Nick Jonas nailed a montage performance of all his hit songs, proving he is one of today's biggest stars.
-Demi Lovato was nothing short of impressive during her performance of her latest single, "Confident."
-Carrie Underwood flawlessly showed off her vocals as she performed "Heartbeat."
-Coldplay put on a show while performing their newest single, "Adventure of a Lifetime," complete with kaleidoscope lights, beach balls and apes.
-The Weeknd was on fire, literally and metaphorically, as he sang "The Hills" while flames engulfed the stage.
Justin Bieber and Selena Gomez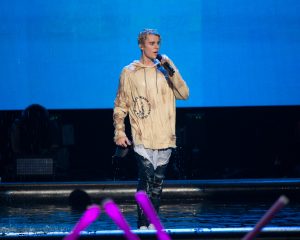 Everyone's favorite "are they, or aren't they?" couple is back at it. On Friday night, Justin was seen serenading Selena at a hotel and had everyone wondering whether the two artists were back together. Rumors that the two were scrambling to be able to sit next each other at the AMAs were flying on Sunday night, but they remained in their original seats at a safe distance from each other. Gomez perfected her performance of "Same Old Love" in the beginning of the show, and Bieber fulfilled high expectations during his grand finale performance, in which he sang his most recent top hits. Whether the two were singing to each other or not is still up in the air.
Star Wars
To help promote the upcoming seventh installment of this blockbuster franchise, a tribute was given during the show. Harrison Ford spoke about the film and then passed the torch along to a capella group, Penatonix, who were dressed in Stars Wars-esque outfits and accompanied by a 75-piece orchestra. The performance was well done, and was followed by a clip from the upcoming movie.
The Night's Big Winners
-Artist of the Year: One Direction beat out seven other musical talents proving that Directioners are still a dedicated fan base.
-Best New Artist: Country star Sam Hunt snagged this award, beating out a tough group of competitors including Fetty Wap, Tove Lo, Walk the Moon and The Weeknd.
-Song of the Year: "Blank Space" by Taylor Swift.
-Collaboration of the Year: "Where Are Ü Now" by Skrillex & Diplo Featuring Justin Bieber.
Celine Dion Pays Tribute to Paris
While the AMAs is a time to celebrate the joys of music, the recent acts of terrorism in Paris were impossible to ignore. To address this tragedy, the show recruited Jared Leto to deliver a moving speech, followed by a beautiful performance of "Hymne á L'Amour" by Celine Dion.
Gigi Hadid and One Direction                                                      
On the red carpet, the model ran into the boy band where she gave Harry Styles a handshake, and then proceeded to hug the rest of the members. Styles appeared to roll his eyes, which the camera caught, leaving everyone wondering what the beef is all about. To add fuel to the fire, rumors are now circulating that Hadid is getting close to One Direction's ex-bandmate, Zayn Malik.
Feature Image: Disney ABC Television Group Photo, Courtesy of Flickr URL