Selena Gomez is back in the spotlight and using her talents for a new TV series. Sadly, she won't be the star of the show or even on camera, rather she's taking on a different role behind the scenes. Gomez will have a position as an executive producer for the Netflix series, "Thirteen Reasons Why." The show is an adaption of the heart wrenching, young adult book of the same title by Jay Asher.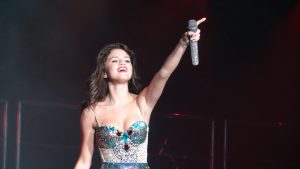 Deadline was the first to report that Gomez is going to be a part of producing the new show. Other executive producers for it include Mandy Teefy, Kristel Laiblin and Anonymous Content. Netflix decided to give the producers a straight-to-series order, meaning that Netflix has high enough hopes for the series to disregard the pilot process and order multiple episodes from the start. The series has been picked up for 13 episodes and should prove to be just as heart wrenching and beautifully composed as Jay Asher's novel. However, the production is still very much in the works.
The show will mirror the book and present the storyline of the protagonist, Hannah Baker, and how she explains the reasoning of her suicide in cassette tapes that she has left behind. The adaption of "Thirteen Reasons Why" is exciting for fans of the book who have been waiting for the story to be portrayed on camera. The book had been in the works to become a movie, but that process fell through. Now that it's becoming a Netflix series, fans have the opportunity to stream the series in the comfort of their homes and also enjoy Gomez's work.
Gomez has been in and out of the spotlight recently because of her connection to Justin Bieber, and the downfall that came from their relationship. Since their breakup and her rehab visit after she was diagnosed with lupus, she has been working her way back into the spotlight as an independent woman. She's done this recently through completing several movie roles and exciting fans by releasing her new album, "Revival," on Oct. 9. Gomez's previous full album release, "Stars Dance", was back in 2013 and since then she has had fans waiting for her return.
Feature Image: AleeDear Photo, Courtesy of Flickr, URL