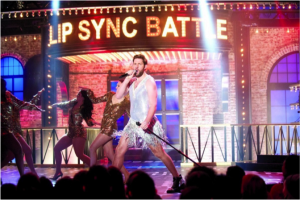 The new Spike TV show, Lip Sync Battle, has been a huge hit since its premiere on April 2, 2015. The show features celebrities facing off and showing their lip-syncing abilities in order to amaze the studio audience and hopefully get crowned Lip Sync Battle Champion (only for that episode, of course). It was originally created by Emily Blunt, John Krasinski, and Stephen Merchant as a segment for the Tonight Show Starring Jimmy Fallon, where stars such as Will Ferrell, Kevin Hart, Emma Stone, etc. challenged Jimmy Fallon. It included the celebrities and Fallon taking turns lip-syncing to sections of well-known songs, all while trying to lip-sync better than their opponent. Blunt, Krasinski, and Merchant took the concept of the lip sync battle segments and created the fan favorite spin-off show airing on Thursdays at 10/9c. The show follows a similar format as the Tonight Show Starring Jimmy Fallon segment, but for the second song celebrities have the opportunity to include props and costumes to liven up their final performance. Lip Sync Battle is hosted by the charming, LL Cool J and colorful commentator Chrissy Teigen. Cool J and Teigen add comedic input and banter with the celebrities throughout the show.
The premiere featured Dwayne Johnson vs. Jimmy Fallon (an executive producer), battling it out to be the "prestigious" champion. Johnson performed to Taylor Swift's hit "Shake It Off" then Fallon came after with Harry Belafonte's "Jump In The Line (Shake, Senora)". Both stars pulled out all of the stops for their final set. Jimmy Fallon began his final performance in what seemed to be a prop-less and costume-less set, until he put on a robe and a full choir joined him onstage as he lip synced to Madonna's "Like A Prayer." Johnson finished with a performance of the Bee Gees' "Stayin' Alive," where he had a disco ball and colorful lighting on stage, was dressed in an all white suit, and disco danced himself into being first champion of Lip Sync Battle. The episodes to follow featured Common vs. John Legend and Anne Hathaway vs. Emily Blunt.
The latest episode, which aired on April 16th, starred Anna Kendrick vs. John Krasinski (an executive producer) facing off in a lip sync battle that didn't disappoint. The celebrities began with songs by popular boy bands to entertain the audience. John Krasinski, best known for his role as Jim Halpert in The Office, started off the show lip-syncing to NSYNC's hit, "Bye Bye Bye". He embodied a true teen heartthrob by singing his way into the hearts of the audience members and marionette dancing his way across the stage. The Pitch Perfect star, Anna Kendrick, followed with her rendition of One Direction's hit "Steal My Girl". Kendrick went as far as wearing a t-shirt with the faces of her and Emily Blunt (John Krasinski's wife) in a heart as she passionately lip synced next to a monitor of Emily Blunt pictures. John Krasinski and Anna Kendrick concluded the show with Tina Turner's song "Proud Mary" and Jennifer Lopez's new hit, "Booty".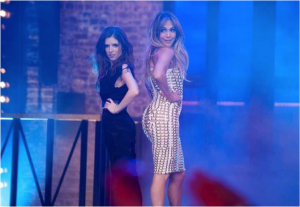 Krasinski sported a Tina Turner inspired silver dress during his performance and left the audience in awe as he strutted across the stage, throwing a few shimmies in there. Anna Kendrick answered with her wowing performance where she danced and showed off her booty-shaking skills. She surprised the audience towards the end of the song when Jennifer Lopez appeared on stage and walked to the front with her for a fierce final pose. The episode ended with Anna Kendrick being crowned Lip Sync Battle Champion, but she had J. Lo on stage, so was it even a competition?
Lip Sync Battle is a great show to have a few laughs and overall be entertained. It has become a huge hit and is rated as one of the most watched TV shows on Thursday nights. In addition, Spike reports that clips from the show have been streamed about 100 million times. The upcoming show on April 23rd will feature the boxing legend, Mike Tyson vs. the hilarious actor, Terry Crews. This next installment of Lip Sync Battle is being promoted as one of the most entertaining episodes yet. We're going to have to see what else is going to come of Lip Sync Battle, but for now it seems to be a definite crowd pleaser.