Loyola Baltipreneur Accelerator Program Awards Five Cohorts Thousands of Dollars for Hard Work at Demo Day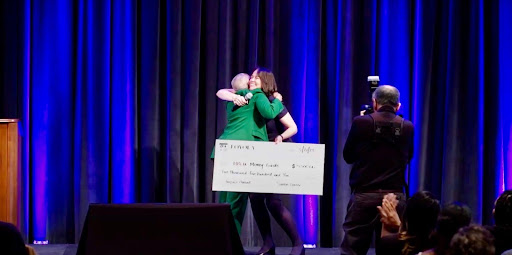 Nine Baltimore-based entrepreneurs were selected as this year's Cohorts for the Baltipreneurs Accelerator program, with five cohorts being awarded thousands of dollars for their hard work at the end of the event.
The 2023 Baltipreneurs Accelerator Program hosted its Demo Day event on March 21. Drinks, food and much applause filled McGuire Hall on the second floor of the Andrew White Student Center. The accelerator program is designed to support these entrepreneurs through funding, training and mentoring. 
Mary Ann Scully, Dean of the Sellinger School of Business, opened the event with her remarks about the accelerator program.
"We know that a key factor in economic development is entrepreneurship, and entrepreneurship has always been something that lifts people up. If in the process of attracting, training, and creating an ongoing ecosystem for entrepreneurs in this city, that we care about and that we are anchoring, we can make things better," Scully said.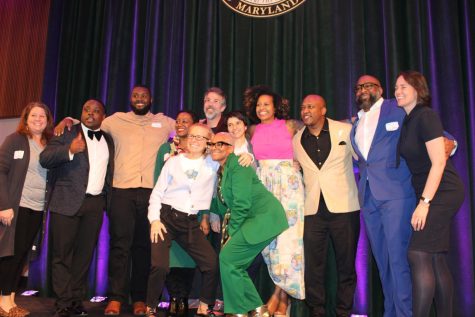 The five awards given at the end of the 2023 Demo Day were given to GFTD (the Hustle Award, $5,500), HBCU Money Guide (the Impact Award, $5,500), Coordle (the Peerless Award, $5,500), Los Hermanos Tequila (the Greyhound Award, $5,500), and Treehouse Juicery (the Audience Choice Award, $3,000).
Donta Henson, entrepreneur and co-founder of tequila company, Los Hermanos Tequila, was selected as one of Loyola's Baltipreneurs and awarded the Greyhound Award. Los Hermanos is Baltimore's first black and veteran-owned tequila company. 
The Greyhound Awardee, who was awarded for achieving 10-times growth in his company, said the one thing he wanted to get out of this program was to get a better sense of business, but found that the greatest thing he got out of it was the mentor relationships he gained along the way. 
"More than anything that I've got from this class, was the relationship that they gave, to put in motion with the mentor that they assigned me. He's someone who built his business from the ground up, and so when they partnered me with him, a lot of the questions that I was struggling with, that I didn't have a place to go to answer, he would answer within minutes," Henson said.
Just like the treasure of creating relationships with those mentoring him, Henson shared with the Demo Day audience the secret ingredient to what makes his tequila company different from the rest. 
"What is our secret sauce? Shared experiences. What we know from science, is that most people rate experiences that are shared, even with complete strangers, more valuable than if they had experienced them alone," Henson said. "Those memorable moments, those shared experiences, are why me and my brother got into this business, and that's what we're exporting to our customers."
Henson and four other cohorts were awarded thousands of dollars for their hard work in the Baltipreneur Accelerator Program and were voted as the highest-performing teams. The nine Baltipreneur cohorts were led by passionate and committed entrepreneurs within the Baltimore area. Next year's Baltiprenuer Accelerator program will begin accepting submissions this fall.
Leave a Comment