Where is the Snow?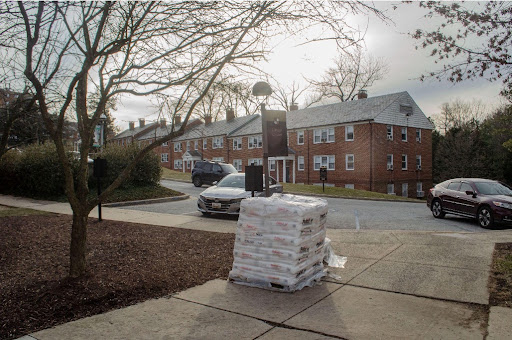 Pallets of salt are piled and waiting on Loyola's campus, but one thing is conspicuously absent: the snow. So far this winter, Baltimore has barely had any measurable snow, and temperatures have been above average. January is typically Baltimore's coldest month, but the average daily high temperature was 9.6 degrees above the usual. 
According to Molly Robey, a Communication Professor at Loyola who specializes in meteorology, "Our average amount of snowfall for the month of January is 6.4 inches, and we didn't come anywhere close to that. So, we are definitely far behind in terms of snow."
For many students, the weather has been disappointing. Ryan Hester '26, from Boston, is in the midst of his first winter in Baltimore. Hester said he finds the weather in Baltimore very unusual coming from Boston.
"I like when the ponds back home freeze over, and I can go and skate with my friends. I like winter and that distinct winter feeling; it's hard to describe, but you just don't get that in Baltimore. It snows a lot more back in Boston. I don't really like the snow, but it feels weird having no snow at all," Hester said. 
Even for students who grew up in the area, this winter seems to be odd. Brayden Evans '23  is from the Annapolis area and said that this winter seems milder than almost any he can remember.
"It's been a very warm winter. It's nice to walk outside and feel the cold air; this just feels unnatural. I think that it should be a lot colder for this time of year," Evans said.
Over the past few years, barely any snow has fallen in Baltimore. This winter, Baltimore's only snow came in the form of a few dustings that melted away by the time the sun came up. Baltimore did not see any snow until late January, and there likely will not be snow in the next week or so. Evans has been waiting for the snow but is hardly hopeful.
"I hope it snows soon, but it's been a few years since we really got a lot of snow. It's been the norm for a while. I guess the last time we really had a lot of snow was 2015, but I really don't think we'll see snow like that any time soon," Evans said. 
Robey brought up the fact that there are still a few weeks of winter left, so we can't speak too soon. 
"Our average last snowfall for winter is usually mid-March, so we still have a few weeks to go. March is actually a snowier month compared to February, so there's still time to see snow."
While there is still no sign of a snow day in the future, a mild January and a warm start to February seem to have left students somewhat dissatisfied. But, if the sunny weather continues, it suggests that this spring and summer may be a lot warmer than usual too.  
Featured Image Courtesy of Joshua Glatman.