The Baltimore Community Comes Together To Better The City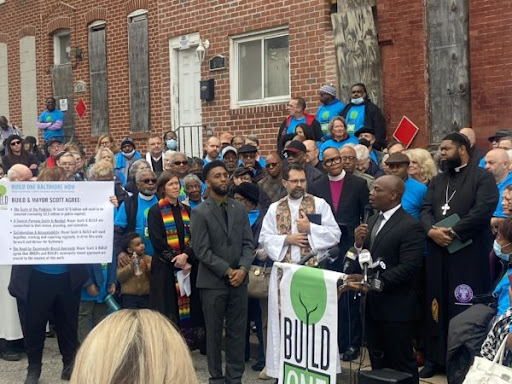 BUILD stands for Baltimoreans United in Leadership Development and has been around for over 45 years. Because of this plan, more job opportunities have become available, and more schools and neighborhoods have been rebuilt.
BUILD currently has a housing campaign in place to tackle this problem in partnership with ReBuild Metro. Their mission statement covers the success they have had so far.
According to their website, "To date, our affordable housing investments have resulted in over 180 occupied single-family homes and 129 multi-family units. We've also repurposed over 120 abandoned lots in East Baltimore. In each of the neighborhoods where these projects have taken place, income diversity increases, and because the work redevelops vacant property, there is no displacement." 
Justine Abel has been the administrative coordinator of Baltimore Build for over a year. She talks about how many community members and political figures such as Mayor Brandon Scott joined together to show support for BUILD's new plans.
"Approximately 300 determined clergy and community leaders attended a press conference in front of Greater Harvest Baptist Church with Mayor Scott to show their support for BUILD's plan to address vacant and abandoned homes in Baltimore," Abel said. 
Scott has committed to investing in BUILD to address this issue. The scale of the investment is placed at $7.5 billion – including $2.5 billion in public capital, up to $200 million per year.
The BUILD plan focuses on assigning local leaders around Baltimore in certain institutions such as schools and churches. This is to help come up with solutions to local issues that are present in every neighborhood that might go unnoticed.
Andrae Brown, a member of Zion Baptist Church speaks on what he does to better his community and how BUILD has helped.
Brown said, "What I have learned is that everyone in the neighborhood has to look out for one another. Too many neighborhoods have been ruined because of conflict from within. The BUILD plan helps ensure that community members are working together instead of trying to tear the neighborhoods apart." Brown knows how important it is to be present in the community to make it a better place.
"I enjoy being active in my community in any way possible. I am a part of the neighborhood watch, bible study, and morning carpools for school," Brown said. He also gives a word of advice to those who might not be sure how to help their community.
"I advise citizens to support their communities in any way that they can. It can be from donating food and clothes to making a donation to your local church or community center. Any support is better than no support at all," Brown said. 
Leave a Comment