Dancing for the win on new DWTS season 18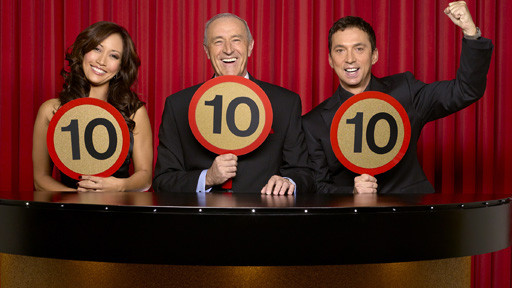 A new batch of celebrities found themselves on the Dancing with the Stars stage last Monday night for the premiere of season 18.  Everyone from Gold Medal winning Olympians to pop singers to child stars graced the stage with their new dancing skills.
This season is called the "new and improved "season according to the Washington Post. Every week, there will be a new guest judge, the dancing duos will switch partners and Erin Andrews from FOX sports and former competitor is the new co-host. Also, the voting process is different. You can vote by emailing, calling, or using social media, and  the couple with the lowest amount of votes will be kicked off at the beginning of every episode. There were some performances that were clear front runners and some where the dance pros were doing all of the work.
The top performance of the
night was Gold Medal Olympic champion Charlie White and dancing pro Sharna Burgess. They had total score of 27 out of 30, which is no surprise due to Charlie White's dancing on the ice.  This couple's dancing abilities brings on tough competition for the rest of the celebrity dancers. They brought romance and natural talent to their performance, shocking both the audience and the judges. Carrie Ann called them a "perfect match."
Para Olympian Amy Purdy took second place with 24 points dancing the Cha Cha Cha. She trained for both the Paralympic snowboarding competition and Dancing With The Stars at same time with her reigning Dancing With The Stars champion Derek Hough.  She won a Bronze medal at the Paralympics and 72 hours later she was dancing her heart away with a flawless performance. Not only did she put on a great performance despite her jet lag, but she also survived bacterial meningitis at 19, causing her to lose both her legs from the knee down. It was amazing to see a competitor dance with two prosthetic legs dance her way to the top.
Candace Cameron Bure, also known as DJ Tanner from Full House, showed her competitive nature while dancing a performance of Contemporary with Mark Ballas. They did a great performance that earned her a total score of 25.
Gold medalist Meryl Davis and her partner Max were not far behind Candace with a score of 24. She proved her flawless dancing skills off the ice tonight in the Cha Cha  Cha.  It's clear that Charlie White better watch his back in next week's competition.
Energtic Dancing with the Stars fan and competitor Danica McKeller, who played Winnie Cooper in "The Wonder Years" came in 5th place with her dance pro Val,  dancing the Fox Trot. Her high energy was seen throughout her performance. She is described by The Washington Post as  "A high school math teacher just thrilled to be here".
17-year- old pop singer Cody Simpson came in sixth, shaking his hips with new dancing pro Witney Carson.  There is clearly chemistry between the two on and off the dance floor with a great performance of the Cha Cha Cha that proved he has other talents then singing and winning the hearts of teen girls.
Drew Carey, Real Housewife NeNe Leakes and New York Ranger Sean Avery also had decent performances but certainly were not front runners. However, their dancing did exceed my predicted bottom three. The three most likely couples that may face elimination are Billy Dee Williams from Star Wars and his partner Emma, Big Time Rush's James Maslow and Peta,  and record breaking swimmer Diana Nyad  and Henry.
Besides the performance aspect of he show, rivalries are also part of competition for Olympic champion partners Charlie White and Meryl Davis and child stars Candace Cameron Bure and Danica McKellar. Charlie and Meryal have not competed against each other in 17 years. Candace and Danica have been rivals for a long time. Candace, was dumped by Growing Pains actor Jeremy Miller for Danica back in 1988.
Get ready for an intense season of Dancing with the Stars that you won't want to miss. The competition will continue on Monday nights at 8pm on ABC.
Leave a Comment