On Dec. 1, ABC Family began its coveted "25 Days of Christmas," a movie marathon throughout December, which celebrates the Christmas season by playing a holiday movie every night until Christmas. Since the stress of having to rank beloved Christmas movies is a cruel and unusual punishment, here is an essential movie list placed in order from oldest to newest.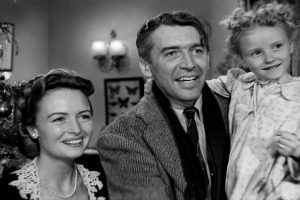 It's A Wonderful Life (1946)
I'm not much of a black and white movie fan, so I'll admit that it took some time for me to warm up to this one. But if you haven't seen it, I highly recommend it. George Bailey is a struggling businessman whose work brings him constant stress. He's about to end his own life when an angel named Clarence comes and shows him (in a Scrooge-like fashion) what life would be like if he had never been born. It's pretty heavy stuff for a Christmas movie, since you can really feel George's pain and angst. However, the end result of this movie is charming, and will make you feel all warm and fuzzy inside.
Charlie Brown Christmas (1965)
Who couldn't love poor old Chuck and his quirky group of friends? This 25-minute short probably can't be classified as a true movie, but I just had to include it on this list. The voices of all the animated children are adorable when they sing, and their dance moves are even more commendable.You can't help but love Lucy's pointless rambling and teasing towards Charlie (this seems like the beginning of a crush to me, despite Lucy's undying passion for Shroeder). It's also heartwarming to see the poor little tree that leads Linus (aka the boy with the blanket), to teach everyone the true meaning of Christmas.
A Christmas Carol (1970)
As easy as it is to hate old Ebenezer Scrooge, you can't help but love him at the same time. This classic story, created by Charles Dickens, is based on a grumpy, stingy man who gets a serious reality check and figurative slap in the face when he realizes how much of a jerk he's being. This movie is filled with great makeup, a chubby and cheerful ghost who loves life, and lots of old-timey Christmas musical goodness.
Santa Claus is Comin' to Town (1970)
There's probably a more historically accurate story of how Santa Claus came to be, but this movie is too cute for it to matter. A trusty mailman (Fred Astaire) tells viewers all about how a little redheaded baby named Kris ends up on the doorstep of the Kringle family — a family that just so happens to be in the toy making business. Kris grows up with the desire to give toys to the children of Sombertown, where the evil Mayor Burgermeister Meisterburger (say that five times fast) does everything in his power to stop Kris from bringing the kids joy. As you can imagine, though, Kris transforms into the beloved Santa Claus, By the end of the movie, Santa melts an evil warlock's heart, as well as the heart of Jessica, the future Mrs. Claus.
A Christmas Story (1983)
Where do I begin with this cinematic masterpiece? This movie is full of moments that will leave you in hysterics — whether it's the dreaded triple dog dare gone wrong, the "major award," an official Red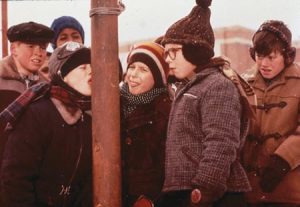 Ryder, carbine action, two-hundred shot range model air rifle (you'll shoot your eye out!), or the fairly politically incorrect, yet too funny to ignore Chinese Christmas dinner (just watch this movie and you'll be in tune with these hilarious moments). "A Christmas Story" is a perfect representation of a typical dysfunctional family in suburban America in the 1940s.
Home Alone (1990)
Let me present yet another dysfunctional family…the McCallister clan is recognized for its fighting, name-calling, screaming and much more. I have the utmost respect for Kevin, otherwise known as the eight-year-old mastermind whose bad side I would never want to get on. If I were to be left home alone at this age, I'd probably curl up in a ball on my couch and hyperventilate while crying my eyes out. However, this isn't Kevin's style. The only thing that seems to make him tick is the pain of aftershave and the old man living next door who (*Spoiler Alert*) turns out to be an absolute sweetheart. Thus, two idiotic burglars and a pet tarantula hardly have an effect on Kevin.
Elf (2003)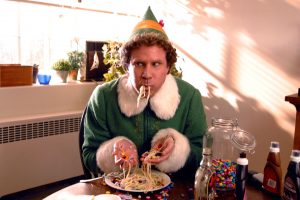 I'm not that much of a Will Ferrell fan, however, "Elf" is a Christmas classic. This movie ties comedy and romance together while still managing to acquire a PG rating. "Elf" is a very quotable movie, and I often think of it as the "Mean Girls" of Christmas movies for this very reason. Watching Will Ferrell eat gum off the streets of New York City makes me cringe, and yet his slightly awkward relationship with Zooey Deschanel more than makes up for it. This movie is an absolute seasonal must-see.
Love Actually (2003)
Say what you will about this movie being unrealistic, cheesy, or stupid because I'm going to ignore all of those criticisms. In fact, I don't know how I survived prior to seeing "Love Actually." The combination of English accents, hilariously flawed characters, and close to ten different love stories woven together makes me giddier than a child on Christmas morning. It stars heartthrob Hugh Grant, Colin Firth and his poor attempts at speaking Portuguese, Rowan Atkinson aka Mr. Bean, a little boy who has hopelessly fallen in love, a young girl singing a flawless rendition of "All I Want For Christmas is You," and much more.. What's not to love?
Honorable Mentions:
Rudolph, the Red-Nosed Reindeer (1964)
How the Grinch Stole Christmas! (1966)
The Polar Express (2004)
The Holiday (2006)
Feature Image: Travis Photo, Courtesy of Flickr URL