The force has indeed awakened.
Last week, during ESPN's Monday Night Football lineup, the station was the first to premiere the new full-length trailer for the highly anticipated film, "Star Wars: The Force Awakens." The trailer was met with praise and criticism, but on the whole, mostly excitement. Now fan-bases both new and old can travel to a galaxy far, far away.
"The Force Awakens" is the continuation of the classic Star Wars trilogy, reuniting audiences with old faces, like the reprising roles of Luke Skywalker (Mark Hamill), Princess Leia (Kerry Fisher), and Han Solo (Harrison Ford), along with the likes of new faces such as Finn (John Boyega), Rey (Daisy Ridley), and the mysterious new villain Kylo Ren (Adam Driver). The movie, now being directed by J.J Abrams, has been a mystery to fans looking for spoilers, as everyone has been tightlipped. This new, longer trailer is the first look for fans hoping to piece together the clues of what Episode VII is really going to be about.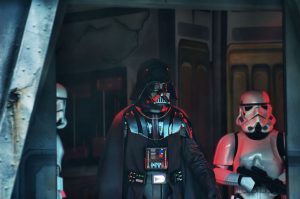 The trailer, which is very ominous from the start, scans through the array of new faces, specifically highlighting the journeys of Rey, Finn, and Kylo Ren. Beginning with Rey, each of these characters gets their own short voice over that seemingly defines them: Rey describing how she is no one and her character being that of a drifting scavenger; Finn describing how he lost his purpose, his character trained to be Storm Trooper all his life; and Kylo Ren vowing to finish what Darth Vader, the previous villain, started. Each of these little tidbits not only set up the flow of the trailer, but gave the audience a deeper look into the forces that will shape the movie.
The trailer then transitions into chaos, showing the familiar faces of Han and Leia, the Millennium Falcon being chased, and various battle scenes. The trailer expands the world of "Star Wars," and how much we know about it.
One of the most important aspects of this trailer, though, comes not from what is shown in it, but rather what isn't. Most noticeably absent from this trailer is the previous trilogies shining hero Luke Skywalker, whose whereabouts and current future are not touched upon at all in the trailer. The audience never gets the chance to even see his face. What this could mean for his role in the movie is still a mystery, but it does help keep people interested and diehard fans constantly wondering: where is Luke?
Overall, the trailer is wildly intense, dramatic and of course, fun. It is the perfect mix of old and new, drawing back in the old crowd and enticing the new. From what it seems, "The Force Awakens" looks like it's about to be the birth of a new classic.
Feature Image: Insomnia Cured Here Photo, Courtesy of Flickr URL