This weekend, I decided to go to the movies and see "The Martian" because of the rave reviews it has gotten thus far. The film is based on the best selling novel by Andy Weir, and sparked my interest because of its unique plotline. The movie ended up being even better than expected, and I left the theatre determined that all of my friends and family should go see it.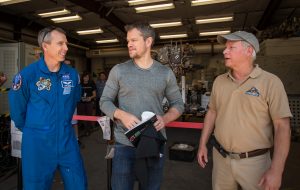 The movie starts off pretty hectically, as the space crew that is on Mars has to depart unexpectedly due to an unfortunate sand storm. One astronaut, Mark Watney, (Matt Damon) gets struck with a projectile during the sandstorm evacuation and the crew is unable to find him. They are forced to leave him behind, with the assumption that he has died. However, he is very much alive, and also very much alone on this desolate planet, which he will now have to call his home forever — or so he thinks.
Watney is forced to grow food on a planet that has never seen the color green, and must use his botany skills to do so. His scientific knowledge and overall intelligence lead him to eventually be able to contact those in mission control at NASA to tell them that he survived the sandstorm. The rest of the film involves NASA communicating with Watney to figure out a strategy for his return to Earth.
Although being stuck on an isolated planet with no form of communication is not a laughing matter, director Ridley Scott and writer Drew Goddard found a way to incorporate humor into their work. This was crucial to the plot because of how intense and unbearably stressful it got at certain points. Watney says things such as, "I don't want to come off as arrogant here, but I'm the greatest botanist on this planet" and, "They say once you grow crops somewhere, you have officially colonized it. So, technically, I colonized Mars. In your face, Neil Armstrong!" This lighthearted humor included in the plot made me wonder how, despite being stranded on Mars, Watney was still able to laugh about the situation and make the best of it.
Having Matt Damon, a phenomenal actor, play the main role of Mark Watney was a great decision for this part. Damon made me feel the pain of Watney, but also the hope and determination he had for survival and his return to Earth.
In addition to Damon, Jessica Chastain plays her part as crew leader Melissa Lewis flawlessly. Her character and the rest of the astronauts on the Mars mission portrayed a loyal, genuine family, and proved they were willing to risk their lives to save one another.
This film made me appreciate those who choose to endanger their lives being astronauts on a whole new level. It also illustrated the amount of knowledge in both science and math that astronauts must have, as well as each and every individual who works for NASA. The emotional distress Watney had to undergo was perfectly captured. This film, along with its cast and crewmembers has a good choice of being nominated for Oscars. I would recommend this film to anyone who wants to watch a high-quality, attention-capturing masterpiece.
Feature Image: Nasa HQ Photo, Courtesy of Flickr URL