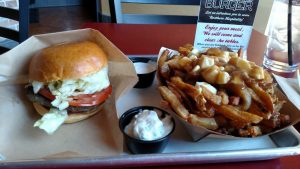 As you walk up to Clark Burger, the savory aroma of grilled beef, onion and freshly cut fries fills your nostrils. Large sliding windows greet you, letting the warm breeze fill the restaurant giving it an intimate, modern community feel. The menu is high on the back wall and is filled with classic Americana favorites, making it almost too difficult to decide. Your anticipation grows as you near the register and must have a final decision ready, but ordering becomes the easy part. Now you have to wait until you can sink your teeth into that delicious burger you just ordered.
The great thing is, you don't have to wait long because the employees of Clark Burger are there to serve you in a kind, timely manner and they do just that. The food is prepared quickly, but with care, as the cooks work in unison behind the counter. The ingredients they use are fresh, and some are even made in house. All of these things help contribute to the great dining experience James Clark envisioned when he opened Clark Burger.
Located at 5906 York Road, right next to The Senator, the venue provided James with the opportunity to open a business which he has been envisioning for some time. He has been working in the food/dining industry for most of his life, and wanted to start a venture of his own in a community that would provide him with support necessary for a new business. Though the current venue of Clark Burger isn't exactly what James envisioned when it comes to late night traffic, the community provides them with great lunch and dinner crowds that he and the employees are happy to be serving.
The unique qualities of Clark Burger are what truly set it apart from the dining in the surrounding area. The Belvedere Square area is known for its delicious dining options and James's new restaurant provides exactly what people are looking for when venturing out for a great dining experience. The three key features Clark Burger combined for an exceptional experience is the food, the setting, and the staff.
The menu is comprised of delicious variances of the classic burger like the Wake N Bacon along with something totally new to those who are not versed in the Canadian food scene…it's called poutine. Poutine is a Canadian dish originating in Quebec. A classic rendition of the dish is made with french fries, which are topped with a brown gravy and cheese curds. It is considered a fast food dish and has only recently begun to take hold in the U.S. Clark Burger serves up the original dish, along with their variations of the dish. I mean, what's there not to like about french fries smothered in gravy and toppings? My personal favorite is the Alouette, which has the classic base of fries, gravy and cheese curds but is topped with in house smoked beef brisket, dill pickles, spicy mustard and minced onion.
These classic variations coupled with their full service bar and craft beer selection is sure to please anyone looking for a good eat and drink. As for the setting, these warm spring days enhance the open-air seating and provide an awesome spot for lunch and dinner. The design provides a modern atmosphere with a close communal for customers. As it is a smaller restaurant, you'll want to try and dodge the rush hour times, so shoot for later in the afternoon as it is in-between the lunch and dinner time period. So, remember to stop in and show Clark Burger some love!