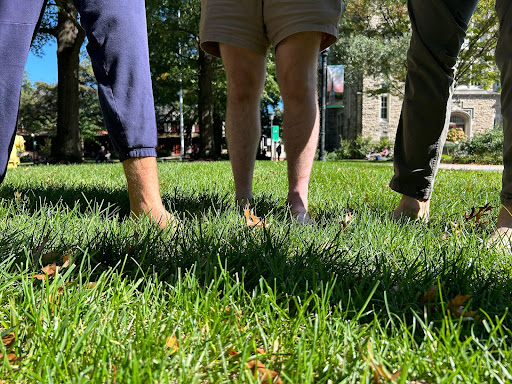 The following represents the opinion of the student reporter and does not represent the views of Loyola University Maryland, the Greyhound, or Loyola University's Department of Communication.
I spend a lot of time on the quad with my friends. I watch the students walk to class and observe the squirrels and other furry creatures as they run around. I really enjoy watching the leaves change color throughout the month, until they fall. I love sitting outside on the quad in most types of weather, but I get very annoyed when we have a random nice day and people take over my quad. I am a loyal fan getting pushed out by–quite literally–fair-weather fans.
Now, I have what some may call a bad habit, which is that I like to go barefoot on the grass. This is called grounding, which has scientific evidence behind it. There are benefits for being barefoot outdoors, but unfortunately, there are many people on this campus who will judge you or even take photos of you for being barefoot on the quad. When I am barefoot, I feel free because I do not have any "muzzles" (socks and shoes) on. Liam Wells '24 shared his thoughts on the topic.
"I have read the science behind it. I do not do it often, but I hear you can feel the vibrations of the earth and the ground is better for your arches and feet," Wells said. 
To the surprise of many of you, there is actual data to prove that walking barefoot on the grass is good for your body. Barefoot contact with the Earth's surface provides benefits to those who are brave enough to release the dawgs. It can even improve your sleep and relieve stress. Now, who doesn't enjoy a good night's sleep? When done right, grounding is also time off your phone, you screenanger!
I decided to walk around and ask my peers if they go barefoot on the quad. Luke Myers '26 spoke about his feelings on being barefoot.
"Yeah, I used to go barefoot on the quad, and I honestly loved it. However, a lot of my friends I would sit with were not a fan of what my feet looked like and thought it was odd," Myers said. "I still go barefoot in my backyard, but I recently cut my foot on a piece of broken glass in the yard." 
I even found Jack Collins '24, who was wearing flip flops while I spoke to him.
"I like to feel free and let the dawgs breathe. I'm not ashamed of my toes. I don't understand why people judge me and others. I'm comfortable with my body," Collins said.
It is very unfortunate, but there are many on campus who are against others going barefoot in public.
"It is weird. It is strange. I don't want to see people's feet out," said recent Loyola graduate, Mikayla Fallon '23.
If you're interested, unlike Fallon, and want to give grounding a try, make sure you're outside for at least 30 minutes and let your feet take in the surface beneath you. Whether you're standing on soil, grass, gravel, or water–let your feet soak it in and reap the benefits! I also did this once at an outdoor yoga class (which was just me and a bunch of old women). 
Mac DiRocco '24 is an active participant in grounding and gave me insight into why. 
"I'm all for being barefoot. I love the feeling of the dirt under my toes. I feel as if I am one with the earth," DiRocco said.
Based on these opinions, maybe it is time that we normalize going barefoot in public. I know it can be seen as weird, but I do believe in the proven benefits to it. I know that I will try to be barefoot as long as the ground is not cold or frozen. Now is the perfect time to go barefoot on the quad.
For you critics that find my accommodation of letting the dawgs out unappealing. You can even walk around outside on a wool or cotton blanket. It won't give you the same sensation, but apparently it is safer. Give it a try and let me know how it goes. Remember, I've got an email: [email protected].