The following represents the opinion of the student reporter and does not represent the views of Loyola University Maryland, the Greyhound, or Loyola University's Department of Communication.
As a Massachusetts local, I have always said, "You can take me out of Massachusetts, but you can't take New England's love for Dunkin out of me." This still holds true, but I've been experiencing some more leniency in my refusal to visit Starbucks. Over the summer, I got free Starbucks as a perk of my job at home. I visited it more often and grew to like some of their brews. Same goes for when I'm on Loyola's campus. Starbucks coffee is very accessible, and I've had to venture over to the dark side. 
Due to this, I decided to ask some hardcore Starbucks fans what their go-to order is and, most importantly, see if it deserves the Richard Clow stamp of approval. If you've read my articles prior to now, you know I'm notorious for reviews and will always lead you in the right direction. In order to find the best Starbucks drink orders, I looked around campus for some familiar faces and some new faces. I tried a wide range of drinks, and some were custom to the person, so if you want to buy me your favorite drink and show me why it is the best, please do. My email is [email protected].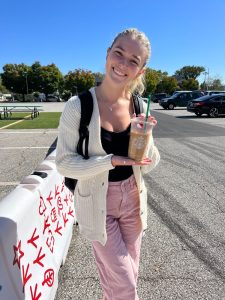 I was lucky enough to catch up with fitness instructor Molly Schindler '25 who teaches Raise the Barre at the FAC every Thursday at 5:30. While we chatted, she shared her favorite Starbucks drink with me.
Iced shaken espresso with oat milk and sugar free vanilla syrup with blonde espresso 
I am not sure what the shaking drink does to the drink or if it's merely a latte in disguise. Despite this, I will have to say, I could probably drink this again in the future. It did not rock my world, but I thought it was an overall well balanced drink. 
I also bumped into Loyola Rugby team Forward's Captain Josh Glatman '24 and I saw what he indulges in at Starbucks. Glatman did not know he was going to be interviewed when he had placed his order. He seemed to be a little embarrassed when I caught him with his guilty pleasure.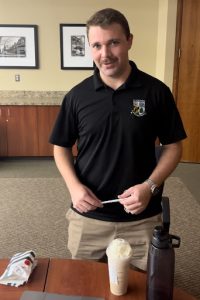 Coffee Frappuccino with Heavy Cream
To be honest, I did order a Frappuccino this summer at work, and was ridiculed in the office for getting a "girly" drink, especially one that is basically a milkshake. Anyways, I took a sip of Glatman's drink, and I immediately could taste the sugar and milk. It barely tasted like coffee, but it was delicious. However, I do not see myself mustering up courage to order this drink here on campus. I know too many people.
I then was minding my own business when Meghan Burke' 24 approached me, so of course I had to try her order as well.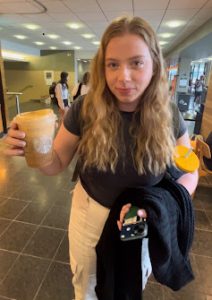 Pumpkin cream cold brew
"Mmmm. It's extra good today. Loyola Starbucks is the best Starbucks," Burke said.
Since this drink is seasonal, there will always be hype around it. I overheard a woman talking to her friends about the perfect ratio of pumpkin cream foam in the cold brew. This woman had some valid points. I got to try this drink, and there was a bit more foam than I had thought. I would most likely order this drink again because it is seasonal and I enjoyed the taste. 
Next, I approached Morgan Binkis '25, who was nice enough to let me try her beverages. She was double fisting, so it must've been a
 tough day. Of course, I had to try both of the drinks. Binkis was very passionate about both of her orders and was very excited to share with me.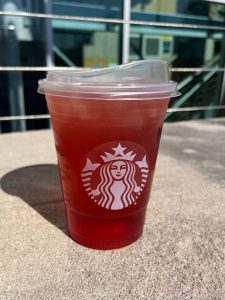 Peach green tea lemonade sweetened with a splash of passion fruit
I'm not a big green tea guy, so I don't normally order this type of drink. However, 
this drink was pretty awesome. The presentation is nice when the baristas layer this drink, but if it is not layered, the drink still tastes great. 
Binkis described the drink perfectly. "This [peach] drink is summer to me, I like to enjoy this on a hot day or even on the premature warm days in the spring," she said.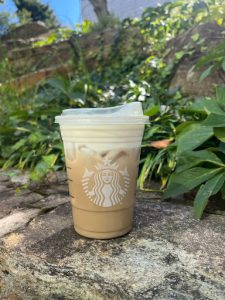 Iced chai latte brown sugar syrup vanilla sweet cold foam
This was my first time ever having chai and I was blown away. I'm not really familiar with chai, but it tasted great. I would probably like to drink this hot on a cold day. Overall, this drink is definitely something I would order again. 
I had the pleasure of catching up with Sarah Vaviricka '24 while I was relaxing on the quad, and I tried her drink.
Vanilla Sweet Cream Cold Brew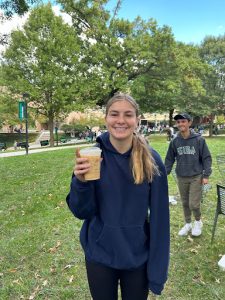 The drink was rather basic. This was nothing special, which I did like. This is a drink I can order all year round without having to read my order off my phone. I get embarrassed when I don't have my Starbucks order memorized, I like being prepared. Anyways, her drink was great, and the vanilla added a bit of a flare to the bitter cold brew.
And lastly, here are the final rankings, from worst to best:
Coffee Frappuccino with Heavy Cream

Pumpkin cream cold brew

Iced chai latte brown sugar syrup vanilla sweet cold foam

Vanilla sweet cream cold brew

Iced shaken espresso with oat milk and sugar free vanilla syrup with blonde espresso

Peach green tea lemonade sweetened with a splash of passion fruit 
Although I tried all these Starbucks drinks on campus, I am still a Green and Grey guy until I die. I love Green and Grey's friendly customer service, fast operations, and great drink options. I still think Starbucks could never.