The No. 1 Loyola University Maryland men's lacrosse team held off a pesky Colgate team Saturday afternoon on the road, 10-8, extending their win streak to nine games as they inch closer to the Patriot League Tournament.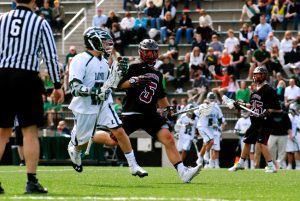 The Greyhounds' offense, led by junior Nikko Pontrello and senior Justin Ward, did just enough to knock off the No. 17 Raiders, who were looking to tie the Greyhounds in the Patriot League standings, but fell short.
Ward finished the game with two goals and three assists, becoming the first player in Loyola's Division I history (since 1982) to record 100 career assists. The senior had a game-high five points in the victory.
Pontrello continued his prolific scoring season with three more goals and an assist, giving him an astounding 37 goals on the season with four games remaining in the regular season.
The Greyhounds (9-1 overall, 5-0 Patriot League) took an 8-5 lead on a Pontrello goal with 2:31 remaining in the third quarter, giving the Hounds their largest lead of the game after a neck-and-neck first half.
However, Colgate (7-3, 3-2 PL) continued to claw back, closing the third quarter with two goals within a minute of one another, closing the gap to 8-7.
Freshman Graham Savio won the opening face-off of the fourth quarter, ran into the box and fired a shot that hit the post. Freshman Ryan Fournier scooped up the ground ball and found Pontrello, who scored his third goal of the game to give the Hounds a 9-7 lead.
Right on cue, however, the Raiders pulled within one yet again, after Matt Clarkson found the back of the net for his third goal of the day.
Both offenses were held in check after Clarkson's goal, until Ward found fellow senior Matt Sawyer, who fired a sidearm shot from 12 yards out to give the Hounds a 10-8 lead.
The two-goal lead was all the Greyhounds would need, as their defense once again came up big on the opponent's final possession.
With just 26 seconds left, senior Pat Laconi knocked the ball away from Colgate's Eric Foote and picked up the ensuing ground ball. Laconi cleared it to Ward, who passed it to freshman Brian Sherlock who was able to run out the clock.
The game-winning sequence was the third caused turnover and fourth ground ball on the day for Laconi. Fellow senior Joe Fletcher led the team with seven ground balls.
Senior goalkeeper Jack Runkel played all 60 minutes in-goal for the Hounds and stopped 12 shots.
The Greyhounds will aim to win their 10th-straight game next Saturday in Annapolis against Navy at noon.