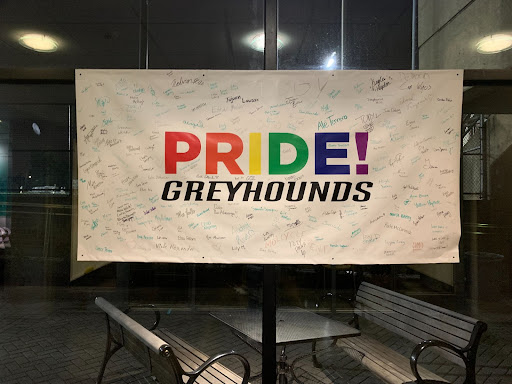 The following represents the opinion of the student reporter and does not represent the views of Loyola University Maryland, the Greyhound, or Loyola University's Department of Communication.
Since I've arrived on Loyola's campus, I have thought it to be an open, inclusive, and accepting environment. The level of diversity and acceptance here was far greater than I had experienced throughout my education before. Despite all this, a red flag stared me in the eyes.
Only a few groups could be more antithetical to the inclusivity Loyola promotes on campus than Turning Point USA. The right-wing group founded by Charlie Kirk in 2012 has grown to include an all-star lineup of racists, homophobes, and transphobes, including Candace Owens and Benny Johnson. They also frequently collaborate with the Daily Wire and their big-hitting propagandists, such as Ben Shapiro and Michael Knowles. 
Loyola's club seems to be entirely separate from the organization; they don't engage in bombastic and inflammatory attacks. However, they are probably most notable for immediately planting American flags following the week that LGBTQ+ pride flags lined the quad last school year. Yet, they fly under the banner of TPUSA; they are a stand-in for the organization and people like Charlie Kirk. 
Doing a five-minute search into Kirk and other collaborators yielded an overwhelming amount of concerning comments that shouldn't be acceptable anywhere. 
"The one issue that I think is so against our senses, so against the natural law, and dare I say, a throbbing middle finger to God, is the transgender thing happening in America right now," Kirk said during an event earlier this month. 
To clarify the club's stance, I went to the President of Loyola's chapter of TPUSA, Zachary Bulger '25. 
"Yeah, I mean, It's free speech. Whether or not it's something we believe, it just kind of depends, so that's his belief; it's not necessarily what our club believes," Bulger said in response to Kirk's statement. 
Turning Point and its collaborators frequently speak about transgender issues, framing it as a culture war point. This transphobia is pervasive throughout the entire organization, to the extent that the hatred they spew has become their image.
"If [transgenderism] is false, then for the good of society, transgenderism must be eradicated of transgenderism—the whole preposterous ideology," Michael Knowles said earlier this year at a CPAC conference with other TPUSA members. 
These are people unafraid to call for the eradication of transgender people, and again, Loyola allows this group to operate and promote events that these people speak at.  
To get a professional opinion on the subject, I turned to Loyola's very own Dr. Karsonya Whitehead, Professor of Communications and African-American studies. Dr. Whitehead is also listed explicitly on Turning Point's very own "Professor Watchlist," which claims to highlight faculty who discriminate against conservative students and teach "radical leftist" ideology.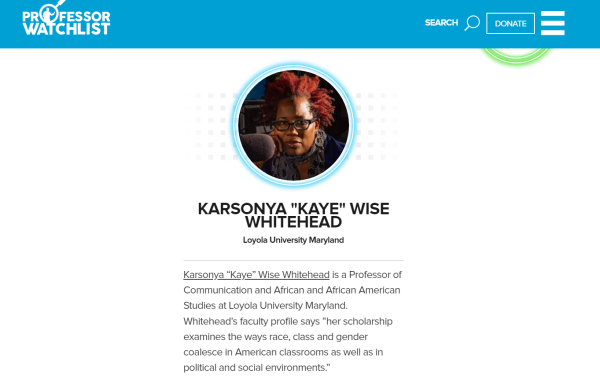 "When it comes to Turning Point and their issues with the trans community, and the issues around the black community, and their issues around the brown community; words lead to actions, and then it becomes very concerning. People can say whatever they want to say; you can speak about those communities. It's when those words become actions. We know words against the trans community can be dangerous for trans people," Dr. Whitehead said. 
Yet their blatant disdain for transgender people isn't Turning Point's only issue; they also are willing to openly belittle Black women in positions of power. 
"Three weeks ago if we would've said that Joy Reid, Michelle Obama, Sheila Jackson Lee, and Ketanji Brown Jackson were affirmative action picks, we would've been called racist. But now they're coming out and they're saying it for us. They're coming out and they're saying, 'I'm only here because of affirmative action.' Yeah. We know you do not have the brain processing power to otherwise be taken really seriously. You had to steal a white person's slot to go be taken somewhat seriously," Kirk said on his podcast back in July.  
"It's not the first part of the quote that is concerning; it's when they start with the personal attacks because we have to understand these are men talking about women, so when you start to think about that, it gets more concerning,"  Dr. Whitehead said in response. 
All of this aside, Dr. Whitehead stressed that Turning Point needs a space on campus. Her point that diversity and inclusion extend to diversity of ideas. She wants a space for them to talk to her students in ALANA and debate these ideas, specifically stressing the importance of discussing these ideas while in college to avoid those ideas being something they hold onto after graduation. 
What struck me the most, however, was how Bulger responded to allegations of Kirk's transphobia. 
"I would say it's different. Being transphobic, he would be hating trans people; I think that he hates the trans movement," Bulger claimed.  
I pressed him on what the "Trans movement" was. 
"There's been more emphasis on transgender recently, transgender policy. There have been government programs. I would not say he's transphobic because to be transphobic, you have to hate trans people," Bulger said.
Bulger is correct. There has been more emphasis on transgender policy; according to Trans Legislation Tracker, 568 anti-trans bills have been brought up in the United States this year alone, 83 of which have already passed. Obviously, he did not mean anti-trans bills, but this is the culture war playbook that even the campus club is willing to engage in. Bulger also claimed that Knowles' call to eradicate transgenderism was not transphobic either. Rather, Knowles and Kirk's issue lay with "transgender itself," according to Bulger. He emphasized that they stood with Turning Point's beliefs, and by standing with them, you stand with all of them. 
Look no further than this year's Turning Point's display at the Activities Fair for evidence. They featured a poster advertisement depicting Kirk, Owens, and Tucker Carlson with the words "BE A REBEL" in bold. It's for a speaking event called "America Fest," with featured speaker Riley Gaines. Gaines was a swimmer for the University of Kentucky in 2022, where she competed against trans swimmer Lia Thomas. Gaines has since gone on a tour of different speaking events to lament about her fifth-place finish, despite the other three women between her and the top spot all voicing support for Thomas. While the club claims innocence, their actions are a promotion of these hateful ideas.  
Following that line of thinking, would that mean Loyola is endorsing this sort of thinking? I would say no. As Dr. Whitehead pointed out, there has been a genuine effort and precise results to make a more diverse and inclusive environment on campus, evident by the last two classes being the most diverse in the school's history. 
On the other hand, Loyola needs to evaluate their statement on diversity, equity, and inclusion, as well as their protection of LGBTQ+ members, and assess whether or not Turning Point fits in with the school's vision. Everyone is entitled to their First Amendment rights, but having that right means you have to take accountability for its usage. When you promote ideals that question the rights of a portion of the student body's existence, you should be prepared to fall under heavy scrutiny.