How Test Anxiety Affects Students' Academics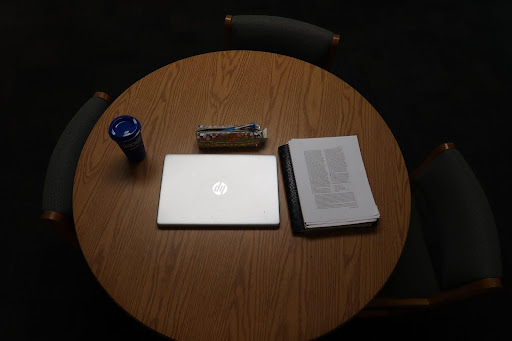 Test anxiety can affect performance through physical symptoms and emotional reactions during a test. Sweaty palms, a racing heartbeat and extreme nausea are all symptoms that may occur because of test anxiety. Forensic Studies major Julia Viveiros '24, knows this experience all too well. 
"I was taking an exam last semester for my psychology course, and I didn't recognize much of the terminology in the questions, which caused me to panic. It felt like my chest was tightening, I got very nauseous suddenly, my hands began to shake, and I felt like I was going to have a breakdown right there in the classroom in front of the whole class," Viveiros said.
Students can experience different levels of test anxiety. Some might feel as though they have butterflies in their stomachs, while others may have difficulty concentrating. As we head into finals, many students are suffering from anxiety and stress related to their assignments. Viveiros said she is apprehensive about her final exams. 
"With finals coming up, I know I will have test anxiety as there is so much material to review in so little time. I am definitely going to have a lot of anxiety leading up to and during my exams," Viveiros said.
Often students feel a lot of pressure when taking tests, as their results can negatively impact their GPA. Leslie Chiles, Program Director of Student Success Initiatives, is in charge of organizing mid-term workshops on campus. Chiles said the workshops provided students with resources to help them improve their grades and achieve academic success. 
 "The mid-term workshops provide a lot of information to students to help them figure out the grade they will need to meet their academic goals. We also share many resources for students to bring their grades up to help them be the best students they can be," she said.
Chiles said that although not every mid-term workshop focuses on handling test anxiety, other workshops throughout the semester will address it. She also said that students with test anxiety could access many resources at the Counseling Center. 
Beth Berenson, a clinical and triage specialist, says students are welcome to come to the Counseling Center, even if they believe that they are undergoing minor issues. She works at the Counseling Center on campus and has particular experience working with anxiety and stress. Berenson uses a combination of solution-focused, strengths-based and supportive approaches in her practice to help students deal with their anxiety. She suggests that one way to alleviate stress anxiety is to set realistic expectations for yourself. 
She said, "When you go into a semester, and you are taking classes that may not be your strong suit, it is important to set realistic expectations. Setting realistic expectations will help you realize that you cannot always pass every test, which for some students is hard to do."
Berenson also suggests that preparing for tests will help students alleviate their test anxiety. She said that it will reduce the nerves that students will feel before and during taking their tests, and developing good study and preparation habits will also help students focus on the test at hand, and not on the different ways they feel they are going to fail their test.
"Often, I see a lot of students who do not study because they feel nervous when they open their books. It results in them not preparing, and feeling really anxious when taking their tests, which is why preparing is always the key to reduce any test anxieties," Berenson said.  
Berenson also emphasizes the importance of learning to accept mistakes. Learning to accept mistakes will allow students to not connect their self-esteem to their test results and belittle themselves for their performance. Tyler Vega '24, says that his stress and anxiety when completing assignments make him feel like the problem is his fault. 
"I feel like my stress and anxiety make me feel like it's my fault. It also makes me feel like I am not doing enough to accomplish what I need to do whether that is socially with school or anything in general," Vega said. 
A third tip that Berenson suggests to students is to establish good self-care habits. She insists that taking care of ourselves and getting enough sleep is very important to alleviate any anxiety symptoms. She also says that it will help with any general anxiety that students experience.
"Taking care of yourself is very important as it will help you with your general anxieties. It will also help some of that specific test anxiety," Berenson said.  
Berenson wants students to know that the Counseling Center is there for them. She says that the Counseling Center is a safe space for students to clear their heads and take time for themselves. All of their services are free and are there to assist students with their stress and test anxiety. 
"We want students to know that we are there for them. We can support them in a number of different ways and provide them with a safe space to clear their heads," she said. 
The Counseling Center is located in Humanities, Room 150. Call the Center at 410-617-2273 or view their Online Scheduling page to make an appointment. After-hours support is available through the Crisis Line at 410-617-5530. To learn more about the Counseling Center visit their Instagram. 
Leave a Comment