Loyola Rowing Kicks Off Spring Season with Jesuit Invitational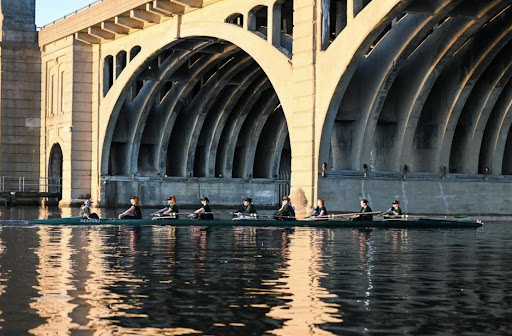 It is all oars in the water as the men's and women's rowing teams opened their spring slate against schools like Fordham, Holy Cross, St. Joseph's, and Fairfield in the Jesuit Invitational.  The weather was anything but ideal with a chilly downpour, but these teams gave it their all with almost every boat earning second place in the regatta.  
Erin Megill '24 is a captain for the women's team and has been rowing with Loyola for the past three years. She explains that the women have come out of the gate strong and that it was so exciting to witness and be a part of this race.  
She said, "We did pretty well and we were going up against some teams that usually are a lot faster, but we are gaining some speed. We had a lot of head-to-head racing, especially our women's first varsity boat was really neck and neck with Fairfield's first varsity boat."
Furthermore, Megill says that besides Fairfield, Holy Cross is a huge competitor for the women as well as George Mason, who they have yet to race against. Holy Cross and George Mason have historically been difficult to beat. However, the women are bringing the speed and momentum that will hopefully carry them first to the finish line when they compete in May.  
She said, "We have put in the work this winter, so just applying that on the water and chasing after them. We race George Mason a couple of times, we race Holy Cross a couple of times, and just seeing how back and forth it goes. So, this season, that is who we are after."   
On the men's side, Fairfield and George Mason are also tough contenders in addition to others.  Devon Sangiorgio '24 is a captain for the men's team and has been rowing with Loyola for the past three years. He shares his thoughts on the turnouts of the Jesuit Invitational.  
He said, "Second varsity eight definitely made, I would say, one of the biggest headways in the game. Fairfield is a big team that we have been trying to hang onto them in the past couple of years. We have also been a bit back and forth with Lehigh for sure."   
The head coach for the men's and women's rowing teams is Megan Patrick. She has been rowing ever since college and has been sharing her knowledge of the sport with NCAA athletes since 2011. This season, she shares that the toughest challenge has been the vast increase in the number of athletes, particularly on the men's team. However, she believes that everyone has adapted very well to this adjustment.  
She said, "Getting the freshman on board with our system, our program, and integrating them into the team has been challenging, but the guys on the team have spent a lot of time working with them and being with them on and off the water at practice and outside of practice and really put the effort in to make sure our freshmen are part of what we are doing."
Megill says that there are a lot more people on their team than someone might think. According to Coach Patrick, there are 62 people in total on the roster for this year. Despite the large group, Sangiorgio believes this does not come between how tight-knit this team is. Megill says that this makes sense, because everything that they do, they do together. 
She said, "We find that with having people to walk to the FAC or the bus together, it is definitely a team-based sport. You are never doing anything alone, so having those people motivate you to get to practice and get up in the morning."  
During a typical day as a Loyola rower, you have to prepare for an early rise, which Megill believes is the biggest challenge in addition to the intensity of the workouts to follow. If the team plans to be on the water, a rower must wake up around 5:20 a.m. or 5:30 a.m. at the latest. The team then heads for the boathouse at the Baltimore Rowing Club around 6:15 a.m. There is a lot of packing and transporting boats that goes into every practice, so that is something that Sangiorgio says takes up a bit of time as well. After practice, everyone typically arrives back on campus around 9:00 a.m. or 9:15 a.m. 
Megill says that mid-day workouts are not very common, and this gives everyone a chance to relax and spend time together. In the chance that they do have an afternoon workout, it is normally a cardio workout back at the dorm or a lifting workout in the Student Center. To finish out a busy day, Megill says that the team relishes a good meal together in Boulder.  
Megill first started rowing in her freshman year of high school. She went into the year without any intent to commit herself to row. However, life took a very unexpected turn and soon enough, she fell in love with the sport. The draw for Megill was being able to be a part of a team and being able to do everything all together.    
She said, "I joined the winter training program with my friends as a 'get in shape for lacrosse' activity for the winter, and I never joined lacrosse.  I went right onto the water and it was from that moment on that I was like 'Okay, I really like this sport'."  
As the years went by, she decided she wanted to continue rowing in college. Megill says that rowing is something she can't live without. Once she toured Loyola in her junior year and met Coach Patrick, she knew Loyola was her place to be.  
According to Coach Patrick, Megill is in good company. Half of collegiate rowers begin rowing in high school while the other half begin rowing in college. Rowing is known as a "late-entry" sport because it is not usual for someone to start when very young. Coach Patrick continues by saying that more than half of Loyola's rowers have learned to row while at Loyola.        
She said, "That is something that makes a coach really proud when you look at a boat, it is going well, and you start thinking, 'Wait, they learned to row at Loyola, and they learned to row at Loyola, and they did.'"  
Sangiorgio is in the fiftieth percentile that began rowing in college. It all started with an email invitation he received to join the team right before his freshman year. During this time, COVID-19 cases were rampant and he says there was a lot of uncertainty going into that year.  He did not know too much about rowing to start, but he did research on his own and decided to join. Like Megill, he loves being a part of a team while also getting in some exercise.  
He said, "I was really up for the challenge. I really fell in love with it after one of the first races we had in the spring. We were finally able to get into a boat and just being able to feel how fast we were going, it was something so unique, and being connected with the eight other guys, it was just awesome."  
Coach Patrick and the two captains bring their perspectives on what is needed for success.  First, Megill thinks it is important to gather with your team before a race and develop a game plan. It is also important to discuss not only what needs work but also to shed light on the high points and hard work.  
She said, "I know something all the boats do is that we sit down before every race, have a boat meeting, and just say what is one thing positive that we have done this week building up to the race, what is one thing we are confident in, and as a boat, we agree on one thing to focus on for the race."  
She continues by saying that it is important to hear the voice of every person. Just as in a classroom setting, Megill states someone may speak up and say something that has been on your mind for a while. It helps her to know that she is not alone in her thoughts and feelings about the race ahead. 
Sangiorgio agrees that there is a mental component in athletic competitions and that taking the time out to relax, breathe, and center yourself is crucial. While taking care of the mind, it is also important to take care of the body and Sangiorgio states some other helpful habits that give himself a boost.   
He said, "Physiologically, of course, definitely a good night's sleep, a good meal before your race, having snacks before your race, and just hydrating go a long way at the end of the day."
Speaking of snacks, Megill says that in her opinion, the secret to a great race is either apple sauce or fruit snacks beforehand. Sangiorgio couldn't agree more, particularly about the fruit snacks.  
From a coach's perspective, Coach Patrick speaks about the universal approach to success, which is through lots of practice and disciplined training. The key to success, she says, is to start with these building blocks and then continue on the upward trajectory from there. She says everyone has really put in the work this past winter and it is important to keep that momentum going.  
She said, "If you have the practice and the training as your foundation, you can start to play around with race psychology and make sure that your technique is completely on point. Also, the belief in your fellow teammates and that when it is time to go, everybody goes. It does start with the foundations of fitness."  
Megill thinks that there are aspects to rowing that not a lot of people know about. She also says that in the chance that someone gets to watch a race, it is a neat sport to witness firsthand and see how it all works. Megill took the opportunity to share some information with the readers, including that rowing is more of a leg sport than for your arms.  
She said, "In the sport of rowing, there are multiple positions. If people are reading this article and think they want to join the rowing team, you can be a rower or you can be a coxswain who gets to steer the boat and is pretty much like a coach in the boat."
Both the men's and women's teams were set to race this past Saturday in Baltimore, but it was canceled due to weather conditions. However, they would love to see more support at their races in the future. Come out and support the women in the next home race against Old Dominion University on Saturday, April 15 in Middle Branch Park. 
Leave a Comment