Loyola Swimming and Diving Head Coach and Athletes Reflect on the Season While Looking Forward to the Future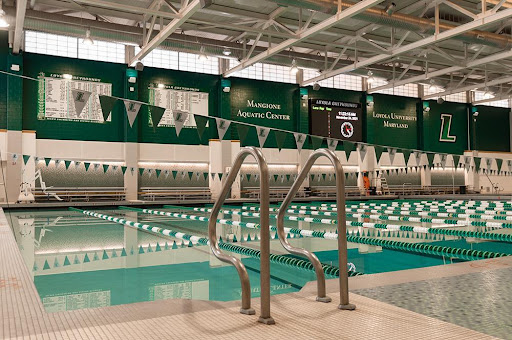 It is the final heat of the championships. You are nervous, and your heart pounds as you step up onto the starting block. However, your mind is soon put at ease because of your teammates cheering from the bleachers. You stop doubting yourself because you know what you are capable of, and your fellow athletes' cheers remind you of that. This season, the Loyola swimmers and divers competed in the usual competitions, but it is their mindset and relationship as a team that completely altered the outcome.  
The official kickoff to this season began with the Green and Grey Meet, which Loyola hosted at the Fitness and Aquatic Center. They had a very successful season and pulled out several more wins than losses. From Pennsylvania to Virginia to Boston and many other places, the bus carried these athletes to compete against other teams within the Patriot League. They even spent time in Puerto Rico for the Copa Coqui XVII where the women won first overall, and the men came in second. Additionally, during the H2ounds Invitational at Loyola, both the men's and women's teams took first place. This was also the first year that a women's relay team finished in the top three, and they made the podium twice. To finish out the season, the athletes competed in a three-day championship meet in Annapolis, Maryland, at the Eastern College Athletic Conference (ECAC) Championships. The men finished in fifth place, while the women finished in sixth.      
Lily Mead '24 has been swimming with Loyola for the past three years and was named Patriot League Female Swimmer of the Week in November of 2022. Additionally, she took home three individual gold medals for the season and won silver with her relay team of Michela Schultz '26, Paige Simko '26, and Charley Tulio '25 at the Patriot League Championships. For Mead, her first relay at the Patriot League Championships is a core memory from the season.    
Mead said, "Our first relay at the championship for the girls was a highlight because we got second, and we were so close to getting first. That was the first time we ever had a girl's relay on the podium, and being able to do that with your teammates is just so exciting, and seeing everyone cheering on the side."
Mead thinks that the excitement and liveliness of the team are easily noticeable. In addition, she believes that her teammates experienced a confidence boost that both lifted their spirits and performance. Mead is no exception, as she says she was able to overcome adversities in her mindset, which helped increase her success this season.  
"We still had the rest of the meet to go through, but instead of people being nervous, we were like, 'oh, we got this,'" Mead said. "It's something we've never done before, and we can all do it together, so that was really helpful, exciting, and a good part of the season."
As for next season, Mead hopes to swim even faster than before. However, she looks forward to the future of the swim program at Loyola. Particularly, she sees some great potential in the incoming swimmers in next season's freshman class.  
She said, "I'm excited to have the new freshman come in. I feel like we can do really exciting things as a team and as a whole. We are bringing in a lot of really fast girls; we've had really fast girls these last couple of years, and it will be cool to have a new dynamic on the team."
Max Verheyen '23 has been swimming with Loyola for four years. In addition to taking home an individual gold medal, he also won silver with his relay team of Caleb Kelly '24, Patrick Hayburn '25, and Teddy Cross '26 during the Patriot League Championships. At the start of the season, Verheyen says that there were some roadblocks, but with some perseverance, the team got back to where they needed to be.
Verheyen said, "We were in and out of illness in the fall, so we weren't able to train as much as we wanted to, but thanks to our coaching staff and our teammates helping us out, we were really able to persevere through that and succeed in the end."
The team also got a new lift coach this year. Because of this, Verheyen said that they had to adjust to an entirely new way of training. He said that it was one of the most difficult years of training he has experienced. However, he believes his team is disciplined and that they bring their best every time. Verheyen echoes the same remarks regarding one of his favorite memories – the team's annual trip to Puerto Rico.   
"The training trip gave us some really tough training, but we all really bonded over that time," he said. "When you're doing a really hard set, but you're with your teammates, you can trust in them more, believe in them more, and when you get to the end of the season, you've done all the work, and it's just time to race."  
Looking back on past seasons, Verheyen believes the program has grown significantly and in more ways than one. The team members have experienced not only athletic growth throughout this season but also personal growth. He is very proud of his team and how far they have come from where they began. 
Verheyen said, "When I was a freshman, there was not as much dedication or discipline or any of the passion either, and it has done a complete one-eighty. Back then, we only had a few guys finalizing in events, and now, the entire team is finalizing, and people are winning events, placing top three, and it was just a really cool thing to see."
Although Verheyen is a current senior, he has his sights set on a possible return to the team next fall. He is on the search for graduate programs at Loyola, but Verheyen is yet to finalize his plans. If he does return, he has begun thinking about his goals for the season ahead. He is already working on these goals, especially when it comes to finding ways around his performance anxiety.     
"If I do come back to swim next year, one of my goals is to let go of expectations," he said. "This year and in the past, I have been driven by those, and it distracts me and gets me too much in my head. Also, I want to help create a better legacy for the team."
Even though Verheyen thinks the team has grown and experienced massive success, he thinks they have the potential to go even further. Like Mead, he remarked about the incoming freshman and believes they will be great additions to the team.  
He said, "Keep your eye on the program over the next few years. We've risen up pretty dramatically, especially on the women's side, in terms of the amount of people swimming fast and finalizing. Especially with the freshman girls coming in next year, keep your eye out because they are going to do something special over the next four years." 
 Brian Loeffler is the head coach of Loyola's swimming and diving teams and has been a part of the Loyola community for a long time. He became the head coach for the swimming and diving teams one year after graduating from Loyola. Especially after this season, he sees something special in his student-athletes.  
Loeffler believes Loyola's swimmers and divers are very dedicated to what they do. Once the sun comes up, so do these athletes. Morning practice takes place three times a week, starting in September. Although there is a hiatus during Spring Break, they also train during the off-season with weight room workouts. Loeffler says that post-season workouts are essential because they help athletes gain more muscle that they can utilize in the water. 
 Not only does Loeffler recognize the athletic zeal of his athletes, but they also possess dedication in the classroom. Both Loyola men's and women's swimming and diving teams were named 2022 Fall Scholar All-American Teams by the Collegiate Swimming and Diving Coaches Association of America. The women had a 3.56 overall GPA, and the men took away a 3.54 GPA. Loeffler says that his team is very bright and that they have been great at balancing the time needed for practice with the time needed to achieve academic success.  
"Our women's and our men's GPAs last semester were 3.5, so I was super happy with that," Loeffler said. "We had several 4.0s, probably six women and eleven men, so it was definitely a better year in the classroom."
 Loeffler thinks that being competitive is a valuable quality, especially in the sports realm. When describing his athletes, competitive was yet another word that came to mind. Loeffler says being competitive is something that helps improve yourself and something you can also use to help your teammates. 
Out of all of his time as head coach, Loeffler thinks that, as individuals, the swimmers have had one of the best performances he has witnessed thus far. In this year's competitions, four of the male athletes won individual titles, and one female won three titles. Despite the incredible success achieved, Loeffler thinks that the team should not stop here and hopes that they continue striving for their best work. In the meantime, he is extremely proud of everyone and enjoyed seeing all the talent and hard work put into creating a memorable season.     
Loeffler said, "While our placing was the same as last year, the women got sixth, and the men got fourth, it was a better year for us, particularly with those individuals that got first-team all-conference honors. It was a great year, it really was."  
 Come out and support the Greyhounds in their next season, beginning September 2023.  
Leave a Comment