Speakers from the National Alliance on Mental Illness (NAMI) shared the stories on Thursday night of their struggles with mental illness. The event was presented by Active Minds, a student-run club dedicated to breaking the stigma surrounding mental illness on campus, with Loyola students as a part of the I Will Listen campaign. The campaign is a week-long program dedicated to educating college students on how to be more understanding of those struggling with their mental health.
Speakers Phil and Charita, who are both volunteers for the Metropolitan Baltimore branch of NAMI, shared detailed accounts of their struggles with depression—when it started, how they were affected, and how they learned to manage their illnesses.
Phil, a former attorney forced to leave his position as his depression became more severe, described his motivational drive as "a faucet turning off." While his depression affects his ability to do work within his career, he has no problem socializing or his volunteer-work with NAMI.
When asked why one aspect of his life seems to be affected while the others remain the same, Phil didn't have an explanation. It was merely another aspect of his struggle with depression— it couldn't be fully explained. Charita, who was diagnosed with bipolar 1, said, "The monster [mental disorders] is mysterious. It is something we don't understand."
Phil discussed his struggle to accept his current mental health and the effect it has had on his life and career. "I'm standing here as a human being, still in the middle of the mess, and I'm saying I'm not going to be ashamed," he said. Phil often finds himself wondering how people see him in his daily interactions.
He expressed the feeling of constantly stressing about whether the people around him assume he is conventionally "normal" or if they can somehow see his illness and sense his struggle. This paranoia only leads to a deeper sense of detachment from the rest of the world, which makes having these conversations to help people better understand mental illness so important.
The best way that both speakers said they deal with such frustrating and confusing illnesses is by taking care of themselves holistically—to treat the mind as a part of the body. By getting enough sleep, surrounding themselves with good friends, and staying active, Phil and Charita, among many others with the same diagnoses, find their depression slightly easier to manage.
Charita became comfortable sharing her story as she became more and more aware of the stigma surrounding mental health and mental illness. She wanted to be a voice for the people who succumb to suffering silently in a world that does not view mental illness as a valid issue.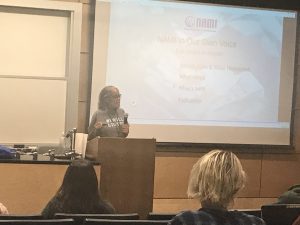 As Phil noted, there are many people who go unrecognized in their suffering and who resort to drastic measures to ease their pain. He began volunteering with NAMI to identify himself as someone who "is still here and did not succumb." As a survivor of mental illness, Phil made it his mission to help others who were experiencing the same struggle.
Julia Berardi, a senior at Loyola and the President of Active Minds, joined the club in her freshman year because of her interest in psychology and her personal relationships with many who suffer from a mental illness. Reflecting on her position, Berardi says, "I think it is important for others on campus to get involved in fighting the stigma surrounding mental illness, because it affects everyone in some way. Many people feel scared to speak up regarding mental illness, but once we break that barrier more people will feel comfortable coming forward about wanting help or wanting to help. It is important for no one to feel alone!"
In an all-year effort to bring awareness to the struggles of those struggling with their mental health, Berardi and the rest of the club plan to reintroduce the Metropolitan Baltimore branch of NAMI in the second semester.