The New York Giants' (1-4) frustrations continued as they took a gut-wrenching loss against the Carolina Panthers (3-1) at Bank of America Stadium in Charlotte, N.C. this past Sunday afternoon.
Panthers kicker Graham Gano nailed a 63-yard field goal with one second remaining in the fourth quarter to seal a victory over the Giants. Gano's career long kick came after the Giants had managed to erase a 14 point deficit, with quarterback Eli Manning tossing a 15-yard touchdown to rookie sensation Saquon Barkley, putting the Giants ahead 31-30 with 1:08 left to play.
Panthers quarterback Cam Newton had 237 passing yards with two touchdowns and two interceptions. Running back Christian McCaffrey rushed for 58 yards and caught one of Newton's touchdown passes for 18 yards.
Manning threw for 326 yards for two touchdowns and two interceptions. Star wide receiver Odell Beckham Jr. not only had a total of eight receptions for a total of 131 yards but also surprised the crowd with a play where he threw a 57-yard touchdown pass to Barkley for the first Giants touchdown of the day.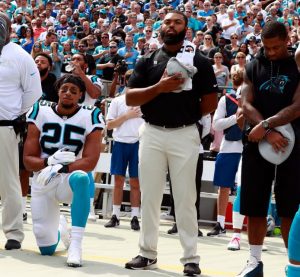 However, despite the trick plays and the last-minute field goal, the biggest story of the game came not from the game itself but from the sidelines. During the national anthem, the Panthers' newly signed free safety Eric Reid took a knee, continuing his protest against social injustice and inequality. Reid stood close to the midfield line up until the anthem began, then went down on one knee as he previously did as a member of the San Francisco 49ers from the 2016 season to last season.
Last Monday, Reid spoke with the media in Charlotte and made it apparent that his battle against social injustice, social inequality and police brutality would not be put aside. None of the other Panthers joined alongside Reid's protest. However, several Carolina players made it known they stood by Reid and his protest, including Newton and wide receiver Torrey Smith.Last week, Smith said regarding Eric Reid, "Hey, no one cares. It's not like he's out there and Coach calls Cover 3 or man-to-man, he's going to take a knee and let his guy run by. If that was the issue it would be a problem. Eric knows what's best for Eric and what Eric needs to do. We all understand what he's fighting for, so if that's something he decides to do, that's what he decides to do. But that has absolutely nothing to do with this locker room, the way we approach the game, the way we prepare and what we're trying to do."